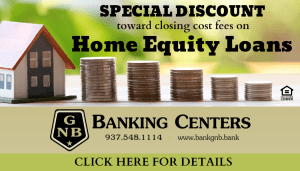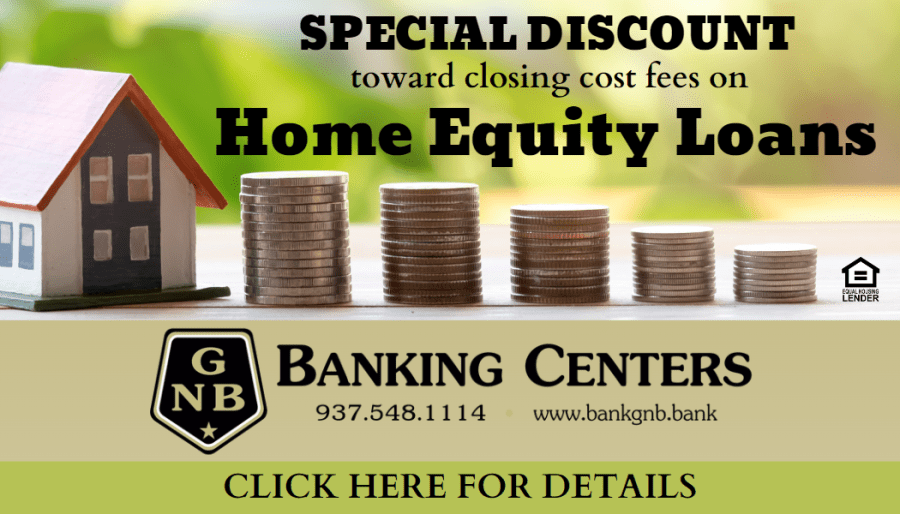 VERSAILLES – The Versailles Tigers closed our regular season play with a 56-48 senior night upset win over the visiting No. 6 state ranked D- Marion Local Flyers in typical physical MAC play.
"Our four seniors' energy fed into the rest of our team," said Versaille coach, Travis Swank. "We competed all night long as hard as we could."
The Flyers brought an undefeated 7-0 conference mark into the night with a starting lineup that included 6'9" Jack Knapke and 6'8" Austin Niekamp while the Tigers came into the night with a 4-4 MAC record on a five game win streak.
"Marion is a good team," Swank stated. 'Kurt (Goettemoeller) always has them ready to go. They played physical for many, many seasons and for us to come out here and try to be as physical as we were here tonight says a lot about our engagement."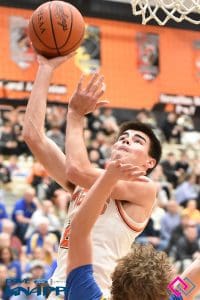 "The Knapke kid and Niekamp – they are a load inside but we were going to have them beat us tonight and not let their guards go off because once their guards are shooting really well, they're just so dangerous with their size and physicality," added Swank. "We wanted to make their guards earn it here tonight. Our wings and guards made them work really hard."
The Flyers grabbed a 15-12 first quarter advantage led by Jadyn Mesher's 8-points including two 3-pointers. Versailles' 6'8" Connor Stonebraker paced the Tigers with 6-points including 2-2 at the charity stripe.
"We tried to go to our strength and that strength is going through Connor," Swank noted. "Their guards can really shoot it and our guards were pretty engaged with them."
Versailles took advantage of a 7-0 run beginning with a Stonebraker baseline 3-pointer from the left side in front of the Flyers bench to knot the score at 17-17 with 6:01 on the second quarter clock. Joe Ruhenkamp followed with a basket in the paint at 4:18 for a 19-17 Tigers lead and Stonebraker nailed an 8-foot baseline jumper from the right side to give Versailles a 21-17 lead at 3:34.
Versailles closed out second period play outscoring the visitors 16-10 led by Stonebraker's 5-points to lead 28-25 at the break. AJ Griesdorn and Joe Ruhenkamp popped in 4-points and Jace Watren drained a trey to round out Tigers' scoring.
Period No. 3 went to Versailles by a 14-8 score giving the home team a 42-33 lead with one quarter to play. Stonebraker led the Tigers with 8-points including his second 3-pointer of the night and freshman guard, Drake Ahrens scored 6-points on three baskets.
"Drake really jumps well for a six foot freshman," Swank said. "He has really grown a lot throughout the year. We knew we were going to take our lumps with him early on but he continued to stay with the process and has developed into a really good guard for us."
AJ Griesdorn gave Versailles a fourth quarter double digit 44-33 lead with an uncontested layup with 7:48 on the game clock on their way to an 8-point MAC victory. Stonebraker paced the Tigers with 7-fourth quarter points, Greisdorn contributed 4-points and Lucas Stammen added 3-points coming from the charity stripe.
"Right now we are playing pretty well and hopefully we can continue that in the tournament," Swank said.
Stonebraker led Versailles and all scorers with a game high 26-points to help upset the visiting Marion Local Flyers.
"Connor played like a man, he played extremely well," Coach Swank said. "He has been so steady for us all year but you can definitely tell his energy level was just a little bit higher than normal. He wanted to walk off this court in his last home game as a winner and he went out there and did what he needed to do to do that."
Coach Swank took time to talk about his four seniors.
"I am proud of all of our seniors, I'm proud of our team right now because things could have went south for us in the middle part of the season the way we playing," said Coach Swank. "They stuck together, stuck with us and we're reaping some of those rewards right now."
No. 15 Ethan Dickey – "Another kid that has waited his turn. He works extremely hard for us, does everything we ask and brings a lot of energy to our team at times when we need it. He's long and linky and can do some stuff on the defensive end. A tremendous teammate for our team."
No. 32 Joe Ruhenkamp – "He keeps our team very loose in the locker room. He has helped us out a bunch. He has been a great addition to our team."
No. 10 Lucas Stammen – "A tremendous kid, waited his time behind some really good players last year and has done everything we asked for. Gets on the floor more than anybody else on our team and he's wanting to do that because he's wanting to make winning plays. Lucas is a winner at the end of the day."
No. 30 Connor Stonebraker – "Connor has come a long way. We moved him up game five or six as a sophomore and he's never looked back. He's had a great career here. He gets a lot of points, he gets a lot of the stats but at the end of the day Connor wants to have more points on our side of the board than the other team does and that's all that matters to Connor. That says a lot about him and what he brings to our team."
BOXSCORE:
VERSAILLES 56, MARION LOCAL 48
VERSAILLES – C. Stonebraker 26, D. Ahrens 9, AJ Griesdorn 8, J. Ruhenkamp 7, L. Stammen 3, J. Watren 3 – TOTALS 15 14-20 4 56
MARION LOCAL – T. Hess 15, A. Niekamp 12, J. Mescher 10, L. Pohlman 4, J. Knapke 4, M. Ranly 2, B. Eyink 1 – TOTALS 14 5-8 5 48
3-POINTERS
Versailles 4 (C. Stonebraker 2, D. Ahrens 1, J. Watren 1)
Marion Local 5 (J. Mescher 2, A. Niekamp 2, T. Hess 1)
SCORE by QUARTERS
12-16-14-14 56 Versailles
15-10-08-15 48 Marion Local