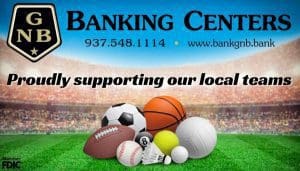 VERSAILLES – The Versailles Lady Tigers took control of the game early to easily defeat the visiting Botkins Lady Trojans 55-32 in non-conference varsity basketball action.
"Everybody we put in, the eight girls were solid, did their job and did their job well," said Versailles coach, Tracy White.
The Lady Tigers took the court following three days off including Friday due to weather conditions and the Christmas break.
"I felt like our girls didn't skip a beat and they were ready to compete," White noted. "They came out and played four really good quarters."
The teams played close in the opening period with the Lady Tigers taking a 12-9 lead with a quarter in the book.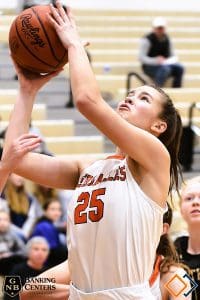 Period No. 2 had Versailles putting some separation between the teams taking the quarter 17-11 sending the teams to the break with the Lady Tigers holding a 29-20 advantage.
Following a 7-point Taylor Wagner second quarter, Wagner posted 8-points in the third to help the Lady Tigers to a 15-6 third quarter and lead 44-26 after three complete.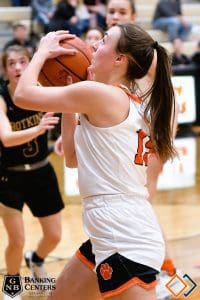 Versailles pushed its lead to 20-points; 46-26 at 7:50 in the fourth on its way to an 11-6 fourth to earn the win while giving up just 12-second half points.
"We really stress keeping our feet moving, beating the ball to the spot," said Coach White. "I felt like tonight it didn't matter what defense we ran, whether we ran our trapping defense, our man to man defense, our zone, whatever it happened to be, we were talking and communicating."
"Everybody was one step ahead of the pass and that's the emphasis we've had," White added. "Let our defense drive our offense and what truly happens, we're a really good team and we're fun to watch. When your defense drives your offense everybody talks about your effort."
Taylor Wagner led Versailles and all scorers with a game high 18-points.
BOXSCORE:
VERSAILLES 55, BOTKINS 32
VERSAILLES – T. Wagner 18, J. Dirksen 10, C. Leach 8, A. Schwartz 6, G. Osborne 4, K. Litten 4, H. Stammen 3, S. Stammen 2 – 21 4-5 3 55
BOTKINS – C. Paul 13, M Maurer 6, D. Pitts 5, K. Doseck 4, R. McPheran 2, J. Metz 2 – TOTALS 9 8-10 2 32
3-POINTERS
Versailles 3 (J. Dirksen 2, H. Stammen 1)
Botkins 2 (C. Paul 1, M. Maurer 1)
SCORE by QUARTERS
12-17-15-11 55 Versailles
09-11-06-06 32 Botkins