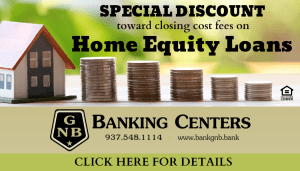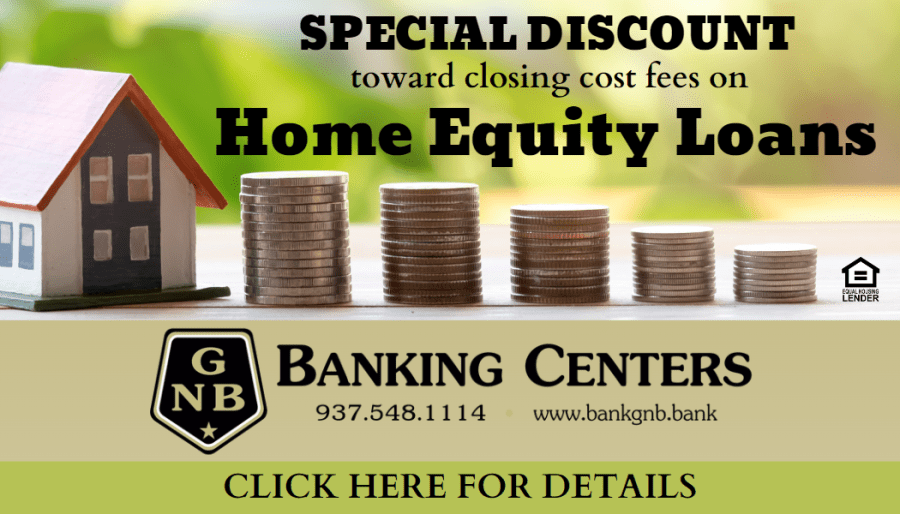 COVINGTON – The Versailles Lady Tigers advanced in OHSAA DIII tournament play with a convincing 57-31 win over the Indian Lake Lady Lakers.
Indian Lake jumped out to a 5-0 lead at 5:51 in the opening quarter before back-to-back 3-pointers from Lexi Magoto and Jenna Dirksen gave Versailles a 6-5 lead. The Lady Tigers used an 11-2 run to lead 11-7 after one complete.
"We started playing really intense especially on the defensive end – the girls just dominated on that end," said Versailles coach, Taylor White. "They played so solid for the four quarters."
Versailles continued building on its scoring run going into second quarter action; a 24-2 burst to lead 24-7 with just under three minutes to play in the first half. The Lady Tigers took advantage of 10 Allison Schwartz second quarter points to lead 30-12 with the teams heading to the break.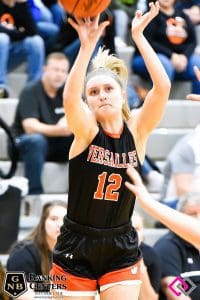 "Allison was great, she played so well," White said. "She was ready, she was focused. When all the attention goes to Wags (Taylor Wagner) and people are double teaming her, Allison finds the windows and she finds those gaps to crash hard to get a rebound or get a pass to finish…and she can. She finished well, she played phenomenal for four quarters."
Period No. 3 had Versailles one better at 7-6 giving Versailles a 37-18 lead with one quarter to play.
Seven Lady Tigers dented the fourth quarter board with Dirksen, Magoto and Sarah Stammen each hitting two baskets and Molly Phelan, Cassie Leach, Taylor Wagner and Schwartz each adding a bucket giving Versailles and 26-point win to advance in tournament play.
Nine Lady Tigers put points in the scoring column with Allison Swartz leading Versailles and all scorers with a game high 14-points including a double-double with 14-rebounds to go along with her 14-points.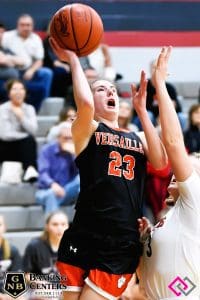 Versailles gets a rematch with the Miami East Lady Vikings, a December 22 home game the Lady Tigers dropped to the Lady Vikings 41-33.
"I'm looking forward to the girls getting another opportunity," said Coach White. "I felt like that game was a game Miami East played really well, we did not play our best. I think our girls deserve it. They've put in the work, they've grown and to get another shot at a really good team they play every single year and sometimes in the summer as well will be huge for the girls. We have to really come in prepared."
Versailles takes on the Miami East Lady Vikings, 52-25 Thursday night winners over Carlisle on Monday, February 20 at Covington with a 7:30 p.m. start time.
BOXSCORE:
VERSAILLES – 57, INDIAN LAKE 31
VERSAILLES – A. Schwartz 14, S. Stammen 12, J. Dirksen 11, L. Magoto 7, T. Wagner 4, K. Litten 3, M. Phelan 2, C. Leach 2, J. Heitkamp 2 – TOTALS 20 5-9 4 57
INDIAN LAKE – M. Dixon 11, S. Altstaetter 9, A. Kinney 4, K. Roby 3, H. Edwards 2, K. Schwaderer 2 – TOTALS 11 6-12 1 31
3-POINTERS
Versailles 4 (S. Stammen 2, J. Dirksen 1, L. Magoto 1)
Indian Lake 1 (K. Roby 1)
SCORE by QUARTERS
11-19-07-20 57 Versailles
07-05-06-13 31 Indian Lake