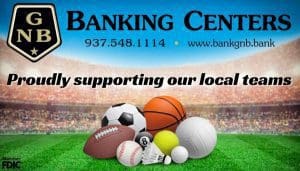 COLDWATER – Versailles senior big man Connor Stonebraker eclipsed 1000 points in a game at Coldwater on January 27 that the Tigers won 55-41.
Stonebraker received an entry pass on the block from Drake Ahrens for an easy basket to achieve the feat.  He ended with a game high 25 points.
Currently Connor is 1st in rebounding in the MAC with 10.6 per game, 3rd in scoring at 22.1 points per game and 4th in field goal percentage 57.9%.
Stonebraker will continue his education and basketball career at Hillsdale College in Michigan next year.  Hillsdale is an NCAA Division II school, and a member of the Great Midwest Athletic Conference.
Congratulations to Connor Stonebraker on scoring 1000 career points.