UNION CITY – The Mississinawa Valley Lady Blackhawks defeated the visiting Houston Lady Wildcats 46-35 in Monday night non-conference varsity basketball action.
"We struggled in a lot of areas tonight," said MV coach, Michael Paige. "We have some things we definitely need to work on."
The Lady Hawks coasted through the first and second quarters with 10-points in each period to lead 20-15 at the halftime break.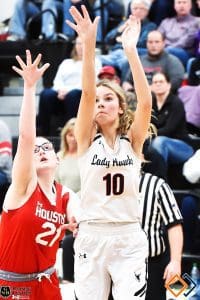 "We haven't had a lot of practice recently," Paige noted. "The game right before Preble Shawnee our practice got cancelled because of weather and then we had the Preble game. We just haven't had a chance to really get in practice and work on some of these little things that we are starting to make the mistakes that we're making. Just have to get back to practice and fix some of this stuff."
Period No. 3 went to Mississinawa Valley by a 14-8 score with Taylee Woodbury knocking down 8-points including two 3-pointers and 2-2 at the line giving the home standing Lady Hawks a 34-23 double digit lead with a period to play.
"They had more effort than us tonight," said Paige. "We didn't put up effort on the defensive end. I don't know if we underestimated them or what the situation was but we just have to get our effort together and get back focused on doing the little things that get us wins and got us to where we are right now."
The teams played to a 12-12 standoff in the fourth quarter with MacKenzea Townsend accounting for six-points in the Lady Blackhawks 11-point victory.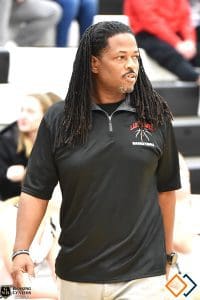 Following the game, Coach Paige took ample time to talk with his team about the evening's win.
"It's a time where we can go over a lot of the mistakes we're making, a lot of the things we were doing wrong," Paige stated. "Try to get us refocused on what our goals are and refocused on what our next step is and what we need to do next."
"We have so many things tonight we need to work on – we had to talk a lot about that" continued Coach Paige. "We have practice tomorrow and Wednesday to get ready for Dixie and then we have some film we need to watch and get ready for the next game."
Townsend led MV with 15-points while Katie Maier was pacing Houston with 15-points.
With the win Mississinawa Valley improves to 17-3 on the season. Houston falls to 6-14 on the year.
BOXSCORE:
MISSISSINAWA VALLEY 46, HOUSTON 35
MISSISSINAWA VALLEY – M. Townsend 15, T. Woodbury 13, J. Hoggatt 9, S. Purdin 7, B. Price 2 – TOTALS 12 4-9 6 46
HOUSTON – K. Maier 15, T. Maxwell 10, Earl 5, O. Burks 3, M. Vondenhuevel 2 – TOTALS 15 2-13 1 35
3-POINTERS
Mississinawa Valley 6 (T. Woodbury 3, S. Purdin 2, J. Hoggatt 1)
Houston 1 (K. Maier 1)
SCORE by QUARTERS
10-10-14-12 46 Mississinawa Valley
08-07-08-12- 35 Houston