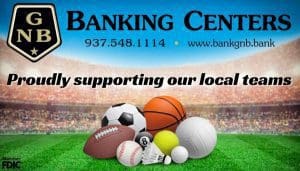 FORT RECOVERY – The Tri-Village Patriots held off a late run by the Indians to earn a non-league win Tuesday night against the Indians 71-67.  In the process senior guard Wilson Suggs eclipsed 1,000 career points.
Midway in the 1st period Wilson Suggs scored a lay-up off a fast break to put him over 1000 points and Fort Recovery called a timeout to allow coach Josh Sagester to present him with the game ball which Suggs promptly went into the stand to give to his parents Scott and Mandy that had dad and mom beaming.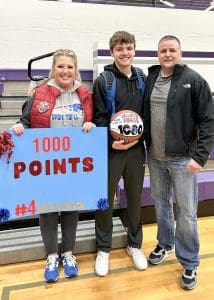 "Wilson getting his 1000th point was definitely a proud parent moment," Scott Suggs said.
"He's had a basketball in his hands from a very young age and it's always been his passion.  We are very thankful he has had the opportunity to play for Tri-Village and Coach Josh & Mick Sagester have been instrumental in teaching him the game and pushing him to do his best. It has been an honor sitting in the stands watching him and cheering for these boys. It's well known the Patriot fans are some of the best," Suggs added.
Coach Josh Sagester would also sing praises for his 4-year starting guard.
"Wilson has been a key piece to our program's success.  His ability to score the ball in a variety of ways has enabled him to eclipse the 1,000-point plateau. Wilson is a great teammate, leader and basketball first kid.  He and his family have put in numerous hours in the gym to reach this milestone. I am extremely proud of him as a player and as a young man who represents our program," Sagester would say.
Wilson was thrilled to achieve one of his dreams and gave credit to those who helped him.
"First, I want to thank coach Josh, coach Mick, and the rest of the coaching staff for everything that they have done to help me get better along the way. Scoring 1000 is something that I have watched many high school players do while I was growing up and I've always dreamed of doing it myself. It is a great accomplishment to be able to score 1000 high school basketball career points. None of this would be possible without my dad pushing me every second since I've been a kid to do my best, 100% I wouldn't be where I am today if it wasn't for him. I can't be more thankful for all the support from my family and the Patriot community that has gotten me to this point.  Suggs stated.
Of course, none of that is possible without Wilson actually putting the ball in the hole and he has done that in a variety of ways.  His ability to blow by defenders and get to the rim and finish has been key along with his ability to pull up and shoot the jump shot and is one of the best scorers I have seen on the move.
Once play resumed the Patriots finished the 1st quarter up 22-15.  Seven players scored in the period, Dalton Delong had 8 points, Wilson Suggs 7 and Justin Finkbine 6 to lead the way.
Ft. Recovery bounced back in the 2nd quarter outscoring the PATS 15-9 to close to within one at the half 31-30.
The Patriots came out strong in the 3rd quarter hitting four of their nine triples on the night.  Dalton Delong had two of his five treys in the frame.  Braden Keating had two 3's as well as Tri-Village extended their lead to 52-38.
But Fort Recovery would explode for 29 points in the 4th quarter including five 3's and would connect on 12 in the game taking Tri-Village all the way to the wire.
Justin Finkbine had 8 points and Braden Keating 6 in the 4th quarter along with crucial free throws made by freshman Trey Sagester, 5-for-6 was enough to hold on for an exciting 71-67 win.
Justin Finkbine led all Patriot scorers with 18 on 8-of-10 field goals and 13 rebounds.  Dalton Delong had 17, Braden Keating 12 all in the 2nd half.  Wilson Suggs and Trey Sagester each had 9 points in the win.
Tri-Village is now 12-4 overall, 8-0 in WOAC and host Twin Valley South on Friday.