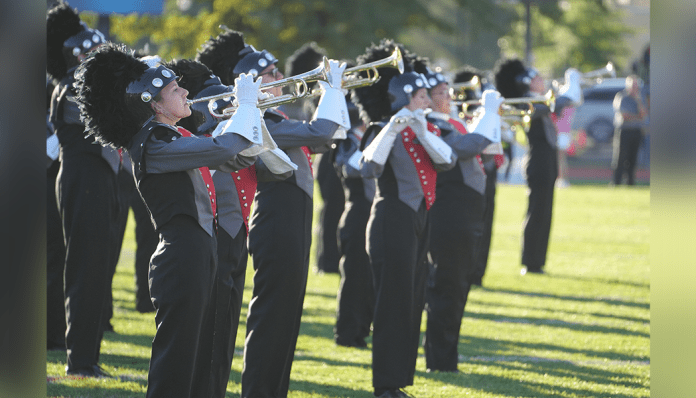 TROY – The Troy High School school marching band will play host to the 42nd annual Trojan Invitational Marching Band Contest Saturday at Troy Memorial Stadium.
Eight high school bands from around the region will be performing, with the first band set to perform at 6 p.m. Saturday. The Troy High School marching band is set to perform around 8:45 p.m. Saturday. The gates will open at 5 p.m. Saturday.
"We are incredibly excited to once again be hosting the Trojan Marching Band Invitational Contest. It's a great opportunity for our families, friends, and fans who live in the area to not only watch our band perform but also to see other talented bands from the area, including Tippecanoe and Newton," Troy High School Director of Bands Molly Venneman said. "Our band members have been working hard all summer to get ready for the competition season, and we would love to be able to put on our show, 'On the Wings of Beauty,' for a big crowd at Troy Memorial Stadium.
"Many people may only see us perform on Friday nights at football games. This is an entirely different experience. It's a great environment playing in front of a home crowd, and it is a fun way to kick off the competition season for our kids."
Tickets to the event are $10 for adults, $7 for seniors and students. Credit cards and cash will both be accepted for admission and at the concession stands. All Troy City Schools staff members will receive free admission with their staff identification badge.
Troy also will perform in competitions at Pickerington North (Sept. 16), Hamilton (Sept. 23), and The Ohio State University's Ohio Stadium (Oct. 14). Should Troy earn a Superior rating at any of its four regular season contests, it would qualify for the Ohio Music Educators Association's state competition the final weekend of October.
Since the first OMEA state competition in 1980, Troy is one of only four bands in the state to qualify every year. Troy has earned a Superior rating every year at state since 2000.