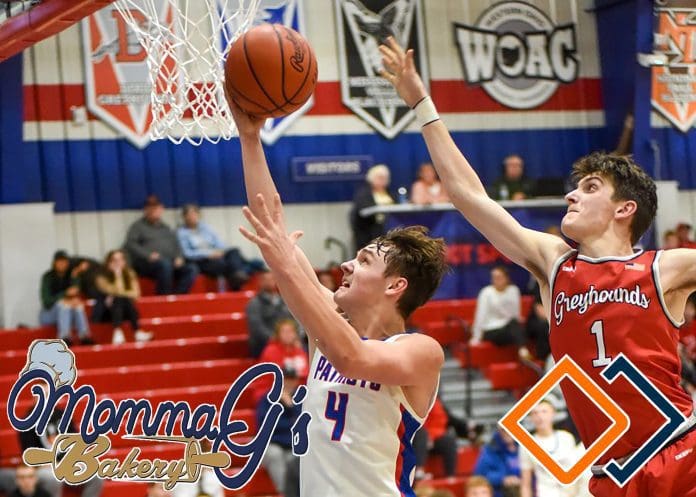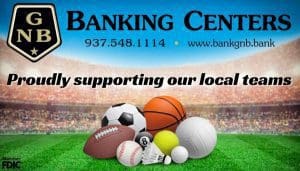 NEW MADISON – It was a battle between two of the top teams in the WOAC with Dixie at Tri-Village. The Greyhounds came to play and held a 42-41 lead early in the 4th quarter, but the Patriots went on a 15-0 run shutting Dixie down the rest of the way to pull out a 56-42 victory and stay undefeated in the league at 5-0 while Dixie falls one behind at 4-1.
Dixie came into the game with a 9-2 record with impressive wins over Greenon, Dayton Christian and Eaton to name a few and also 4-0 in the conference.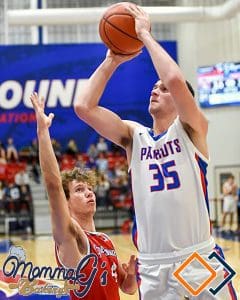 Much to the surprise of many and maybe even to the Greyhounds as well after graduating 7 seniors including 1000-point scorer Jordan Butt, the question was how good they would be.
Dixie coach Nick Worley knew the challenge ahead coming into the game and was excited about the opportunity for his kids to play in a game like this.
"I'm excited these boys have put themselves in a situation to have the opportunity to play in a big game like this and it's been a long time coming for us. All these kids know it's going to battle, and we have to limit our turnovers and rebound the basketball," Worley stated.
Dixie was ready to prove how good they could be hanging tough in the 1st quarter on a triple by Kole  Huffman and a fielder from Nate Emrick knotting the score with the PATS at five each.
TV went on a 7-point run to go up 12-5 on back-to-back Wilson Suggs scores along with a Finkbine deuce and free throw with 2:30 to play in the opening frame.
Dixie fired back on a triple from Owen Stevenson and a floater by Kole Huffman, but Braden Keating and Dalton Delong closed out the 1st quarter with scores to put the PATS up 16-10.
Dixie heated up in the 2nd quarter from long range with four different guys hitting behind the arch. Owen Stevenson, Kole Huffman, Connor Hawk and Luke Miller and they just missed a triple at the buzzer that could have tied the game at the end of the first half.
Tri-Village in a reversal got most of their points in the lane with Finkbine, Camden & Seth Cook doing work inside as they held on for a 29-26 lead at the break.
The Patriots got off to a good start after intermission and was looking to try and break the game wide open going up 34-26 … but just like in the 2nd quarter they couldn't shake the pesky dogs who just kept nipping at their heels.
The Greyhounds raced back on baskets by Hawk, Hunter Parker, Luke Miller, Ashton Huffman and then a triple from Kole Huffman to grab the lead in the game for the first time 35-34 that ignited the bench and the sizable Greyhound pack in attendance at the 3:35 mark.
Senior Dalton Delong helped TV regain the lead on a triple, but Stevenson battled inside on put back offensive rebound to tie it back up.  The Patriots closed out the 3rd quarter up 40-39.
Luke Miller fired in the 8th triple of the game for Dixie at the beginning of the 4th quarter to go back up 42-41 … but then the Greyhounds hit the wall.
The Patriots aggressively attacked the rim in the 4th quarter and used their defense to force turnovers leading to fast break baskets quickly putting the Greyhounds into a hole trailing 50-42 with just under 3 minutes to play.
Dixie needed a basket or a big play but all of sudden couldn't get shots to drop.
Wilson Suggs had a big 4th quarter with 7 points and the PATS were 5-6 from the line pulling away to earn the 56-42 conference win.
"Obviously Dixie came in and gave us their best punch tonight they made shots, tough shots, played hard, scrappy and tough knowing a possible league championship is on the line," Tri-Village coach Josh Sagester praised.
Coach Worley was proud of his team and felt like they showed they can compete but wasn't able to close out the game the way he wanted.
"Yeah, I'm really proud of our boys for the way they came out here and played, unfortunately, we couldn't get it done tonight as the turnovers late caught up with us," Worley said.
Coach Sagester concurred and added the key to the game was staying solid on defense especially late in the game.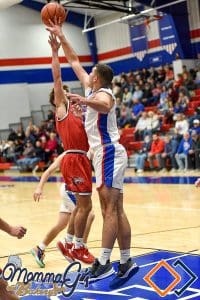 "I thought our kids battled and handled a lot of adversity and maybe wore Dixie down especially in the 4thquarter, they have a nice team" Sagester stated.
A game like this is invaluable to Coach Worley as he works to build his program.
"They've got a really good team and a great program, and it was awesome to come in and play here in this nice facility," Worley commented.
"We have goals coming into the season and the main goals are still ahead of us.  Our guys wanted to win this game, expected to win this game.  I think the biggest thing is we've got to learn from this, we've had issues taking care of the ball and had a couple of leads slip away but we end up winning them … but against really good teams they'll make you pay," Worley stated.
Tri-Village coach Josh Sagester was pleased with the win and everyone's contributions.
"To do things that we like to do in February and March we need guys to be elite in their roles and we got contributions from everyone out on the floor tonight and that's what it takes to beat good teams," Sagester concluded.
Tri-Village Wilson Suggs had 15 points, 7 in the 4th quarter.  Justin Finkbine had 12 points and 10 rebounds to lead the Patriots who are now 8-3 overall and 5-0 in the WOAC.  They will play next at National Trail on Tuesday.
Dixie was led by Kole Huffman with 13 points as the Greyhounds fall to 9-3 overall and 4-1 in the conference.  They will play at Tri-County North on Tuesday.
Back to the question on how good can Dixie be after losing 7 seniors and an elite scorer.
"We have seven first time varsity players, and these kids are still learning to play at this level,  we made shots today and was able to stay in the game until the end … three months ago we didn't know how good we could be," Worley concluded.
Coach Worley got his answer and now the rest of the league knows how good they can be.
Box Score
Score By Quarter:
DIX:     10        16        13        03 – 42
TV:       16        13        11        16 – 56
Team Scoring:
DIX:  Emrick 2, Stevenson 8, Parker 2, Hawk 7, Luke Miller 8, A. Huffman 2, K. Huffman 13
TV:   Sagester 9, Delong 8, Suggs 15, Keating 4, S. Cook 2, Finkbine 12, C. Cook 6