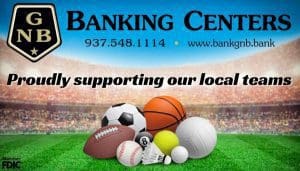 GREENVILLE – The Lady Wave battled back after trailing the first three quarters to pull out a 37-33 overtime MVL win over the visiting Troy Lady Trojans.
"WOW – what a great team win even if we only had three girls in the scoring column," Greenville Coach Rachael Kerns said following Lady Wave victory.
"It's fun…this is actually basketball, this is what basketball is all about, this is fun," she said of the overtime win. "If you told me in that first half we were going to overtime I would have given you a big hug."
Troy bolted out to a 12-5 lead in what looked like a certain win for the Lady Trojans over the shorthanded Lady Wave. Greenville senior sharpshooter, Minaxi Pandey was on the bench in street clothes along with several other Lady Wave varsity players giving cause for Coach Kerns to bring several players up from the JV squad.
"We weren't winning for very much of this game," Kerns stated. "The game of basketball is so hard, you play so many games so quick together and injuries and illnesses you never know what is going to come about. We didn't have time to prepare for this game without having many practices, without having everybody on our team."
Troy was 1-point better in the second taking the quarter 9-8 sending the teams to the break with Troy leading 21-13. Skylar Fletcher paced the Lady Wave with 11 of the team's first half points including two 3-pointers, both banking in off the glass bringing a big smile from Fletcher on the second trey.
Things did not improve for the Lady Wave in period No. 3 on the offensive end with the Greenville girls scoring just 3-points while the defense was keeping the home team in the game with a strong defensive performance allowing just four Troy points. The Lady Trojans owned a 25-16 advantage with one period to play.
Greenville caught fire in the fourth including a perfect 5-5 at the charity strip to outscore Troy 15-6 sending the game to overtime. Fletcher picked up her fourth foul but still managed to pace the Lady Wave with two fourth quarter baskets while going 3-3 at the line, Lind knocked down three baskets in the paint for 6-points and freshman Sara Loudy went 2-2 at the line.
"She plays hard," Kerns said of Fletcher's four fouls. "I told her to be smart and she knows that doesn't mean play soft. How great is that your senior out there scoring your points and able to play with four fouls – so great game for Skylar. She deserved this one today."
The Lady Wave won the overtime period with Megan Lind scoring in the lane and Skylar Fletcher and Sara Loudy each going 2-2 at the charity stripe to earn the 4-point Miami Valley League win.
"We just missed so many great looks," Kerns said. "Credit to our girls for getting the good looks but when we got to overtime I felt like we had just a little bit more of the momentum going. I would have loved to finish it in regulation but a little bit of extra basketball never hurts."
Coach Kerns took time to talk about several of her players that made a big impact on the win beginning with sophomore post player, Megan Lind.
"I don't think anybody understands, but No. 4 (Kiyah Baker) is averaging a whole lot more than 2-points a game and Megan just played phenomenal defense," Kerns said. "She didn't let her get anything close and the only basket she scored late in the game because Megan went and helped off on the person driving. She just doesn't always get credit for what she does but defensively Megan was unbelievable."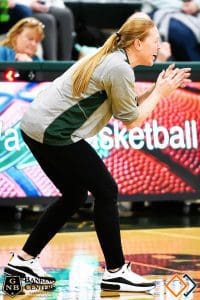 "WOW – what a great game for Skylar (Fletcher)," Coach Kerns praised. "She could have easily folded.   Her shooting guard (Minaxi Pandey) that she always has and can really trust didn't get to play today. She stepped up, she was great from the free throw line, wanted the ball and she really kept us in check throughout the game."
Loudy went a perfect 4-4 at the charity stripe canning four pressure packed free throws, two in the comeback fourth quarter and two in the winning overtime period.
"What a performance," Kerns said of her freshman, Sara Loudy. "Playing JV all year and got to come up a little bit when we went to Mount Vernon and here she is playing three and one half quarters for me.    She is exactly what we need with our current situation with girls that are out. She stepped right up, she's confident and she did exactly what we need her to do."
"One of the biggest momentum changes in the second half, we switched up our zone a little bit and I had Sara playing the wing. She's long, she's a lot longer than people give credit for. We started the second half causing three straight turnovers. She is just so good at getting her hands on passes they think are going to get through."
"Exciting game and it's next man up," Coach Kerns concluded. "We never know who's going to be ready to play, who's going to be able to play so everybody has to be ready."
Fletcher led Greenville and all scorers with a game high 22-points including two 3-pointers and a perfect 6-6 at the free throw line.
BOXSCORE:
GREENVILLE 37, TROY 33
GREENVILLE – S. Fletcher 22, M. Lind 9, S. Loudy 6 – TOTALS 10 11-19 2 37
TROY – J. Almeida 12, L. Niles 10, B. Siler 9, A. Bolden 2 TOTALS 9 6-10 3 33
3-POINTERS
Greenville 2 (S. Fletcher 2)
TROY 3 (L. Niles 2, B. Siler 1)
SCORE by QUARTERS
05-08-03-15-06 37 Greenville
12-09-04-06-02 33 Troy