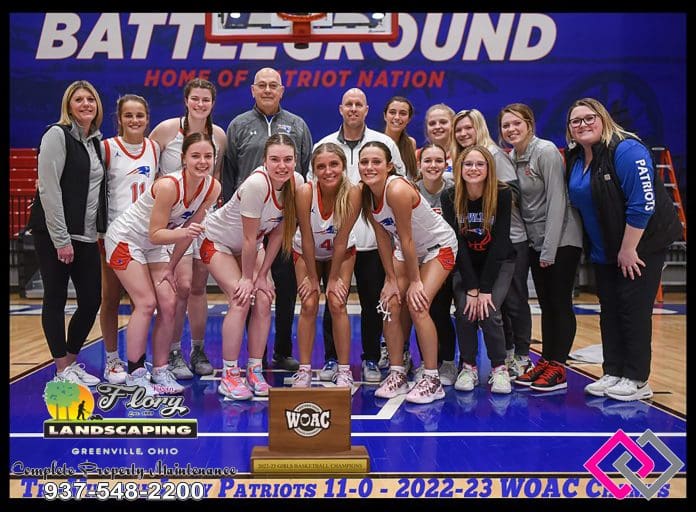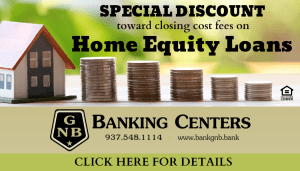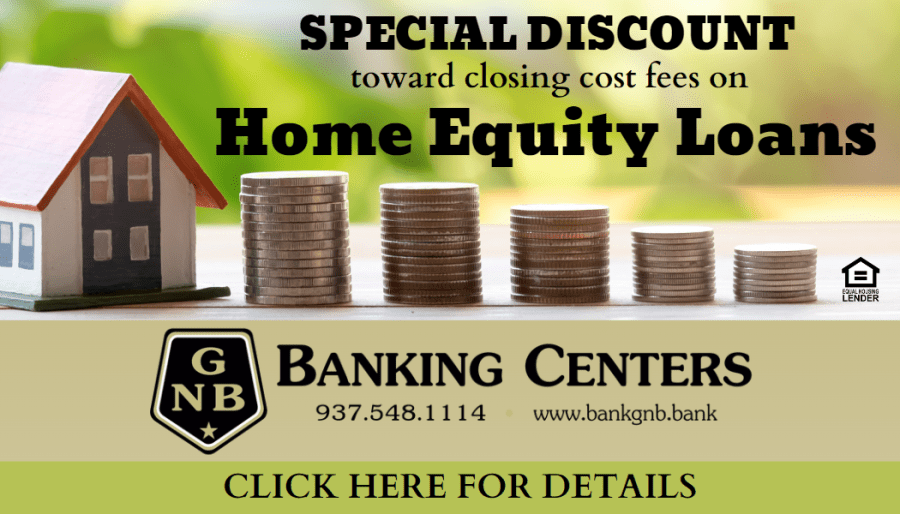 NEW MADISON – It was a big night at the PAC Thursday night with Tri-Village girls' basketball senior night prior to taking on Preble Shawnee with a winner take-all WOAC title on the line.
The Patriots got off to a fast start and never looked back in a surprising 71-36 win.
The Patriots quickly shot out to a 16-0 lead until Korrie Woodard of Preble Shawnee got them on the board with a triple at 2:25 in the opening frame.
It was a big 1st quarter for Morgan Hunt scoring 10 and Sagester 6 accounting for 16-of the 23 points by the PATS for a 23-7 advantage.
"Wow what a start to the game, you don't expect to come out and score the first 16 points against a really good team like Preble Shawnee," Tri-Village coach Brad Gray said.
"I had been worried about this game all week and have a ton of respect for Preble Shawnee, last year they played us tough down to the wire at their place … but our kids kept assuring me all week they had this and that start was definitely proof they did," Gray added.
The offense continued to fire on all cylinders in the 2nd quarter as well.
Preble Shawnee defense – mainly Campbell Jewell stayed focused on face guarding sharpshooter Rylee Sagester … only to see the Patriots use it to their advantage as Torie Richards scored on 3 consecutive three-pointers and 13 first half points.  At the same time Sagester was getting backdoor cuts and driving to the rim for 8 points to hold a commanding 46-13 lead at the break.
The Patriots shot a blistering 68% from the field in the first half including 6 triples and not one from Sagester, in fact she wouldn't have one the entire game.
Coach Brad Gray was pleased with the first half … but he also wanted his team to know that the first three minutes of the 2nd half were going to be very important.
In the last 3 games the Patriots have gotten off to blistering 19-0 starts including the Minster game but would fade a bit in the 2nd half.
The Patriots won the 3rd quarter 9-7 playing more deliberate on the offensive end but staying locked in defensively.
That defense was good enough to hold the Arrows well below their season average of 53 points.  Liv Thompson showed her offensive prowess scoring 19 to lead the Arrows … but as a team they had just 36 for the game.
The Patriots went on to win the 71-36 to secure their first ever perfect regular season at 22-0 and winning the WOAC league championship at 11-0.
It was the perfect ending for seniors Morgan Hunt, Rylee Sagester and Torie Richards who as a group won their 4th straight league title and the trio has never lost a league game from Jr. High through High School over the last 6 years.
Morgan Hunt had a monster night with 21 points, 11 rebounds, 6 blocks, 6 assist and 2 steals.
"I believe she really came to play, and we knew she could have a monster game as she just has that mental focus and bulldog mentality," Gray praised.
Rylee Sagester despite being hounded by DI Michigan Soccer Campbell Jewell on defense scored 19 points and gave out 5 dimes.
"Despite the defensive pressure Rylee maintained her composure and showed great senior leadership not trying to force things and finding other ways to help her team scoring on backdoor cuts and drives to the rim," Gray commented.
Torie Richards again shines on the defensive end, often times she is forgotten on the offensive end, and came up big in the first half with 3 triples, 13 points, 6 rebounds and 2 steals.
"She is an unbelievable defender and showed tremendous leadership on the floor tonight as well, many of her contributions don't get noticed by fans but we all know," Gray complimented.
The Patriots also got contributions from Kynnedi Hager 10 points and 5 rebounds, Bella Black 5 points, 6 rebounds and Sydnee Delong 3 point and 3 rebounds.
It was a history making night for Tri-Village in many ways … and now they must turn their focus on the post season.
The #1 team in the state has some unfinished business and they aren't content to let this be the highlight of their season.
"Last year we peaked a bit early but this team, this group and this community is hungry and we still have work to do," Gray concluded.