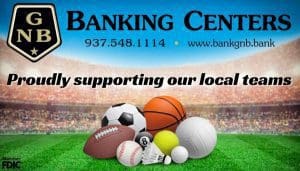 ARCANUM – Whenever Arcanum and Tri-Village play it's a big game worthy of ESPN coverage, even if the commentators are biased the coverage was great but in the end the home team couldn't generate enough offense to keep pace with the Patriots falling 56-28.
In the opening frame TV jumped ahead 8-2 on a triple from Wilson Suggs along with a triple and a lay-up from Dalton Delong.  Arcanum answered on lay-ups in the open floor off turnovers from Aiden Psczulkoski and Brady Lock to close the gap to 8-6 but Delong hit another 3-ball giving the Patriots an 11-6 lead at the end of the 1st quarter.
Defenses were stingy in the 1st half and the play was physical.  Arcanum started out in a 2-3 zone and then pushed the zone out trapping the ball and getting into the passing lanes in the 2nd quarter.
It proved to be effective as the Patriots were unable to get a post-game established and that's where Tri-Village freshman Trey Sagester was able to come in and give them a lift.
Sagester connected on 3 straight triples to push the lead to 21-10 at 1:22 mark.
"I thought we had a good game plan coming in and we gave Tri-Village some trouble early and our kids played really hard, you can't fault the effort," Arcanum coach Roger McEldowney stated. And if not for outside shots by Sagester it would have been a tight game heading into the half.
But Arcanum was having a tough time in their own half-court against an athletic Patriots defense and finally got a fielder from freshman Regan Christ to pull to 21-12 … but junior guard Braden Keating hit a big triple from the corner as the horn sounded to end the first half with the Patriots up 24-12.
"It was good to see Keating knock down that three at the end of the 1st half, Tri-Village coach Josh Sagester said.
Keating had been struggling a bit on the long ball but his effort on defense and making plays has been big for the Patriots.
"We know he's a good basketball player we know he's a skilled and tougher than nails and he did a really good job for us on the ball especially the second half on defense.  To see him hit a big shot at the end of the half and then make a couple more threes in the game will get you some confidence," Sagester added.
In the third quarter Arcanum dialed in 3 treys of their own, two from Christ and 1 from lock … but easy buckets and a post-game was non-existent.
It started out like it was going be all fireworks as TV Suggs extended the lead to 28-12 on a three, but the Trojan's Regan Christ fired one in, followed by Delong for the Patriots and then another by Christ to try and keep pace with the score 31-18 at 4:47.
Trading big baskets had both sides up and cheering creating a good atmosphere for high school basketball.
But the pace would slow a bit after that with Tri-Village holding a 39-24 lead heading into the final stanza.
Tri-Village made 11 triples as a team with Braden Keating adding 2 more and PATS defense clamped down giving up just 4 points in final period to win the game 56-28.
So, it's a good team to play to figure out what you got to do to get better, they are athletic and more physical and was able to keep our leading scorers in check.  We've struggled getting the ball to Sharritts all year and that's something we've been working on, and we'll continue to work on, and hopefully get better soon," McEldowney concluded.
Regan Christ led the way for Arcanum with 8 points, Brady Lock 7 and Nick Sharritts 6.  Arcanum falls to 2-4 overall and 0-3 in the WOAC.  But Arcanum has played a few tough non-conference games losing close ones and played 3 of the front runners for a league title.
So, things are looking up of the Trojans.
Arcanum is back in action on Tuesday traveling to Mississinawa Valley.
Tri-Village was led by Delong and Keating both with 13 points.  Delong, Keating and Sagester each had 3 treys, Suggs 2 treys in the win to improve to 4-1, 3-0.

The Patriots tried to establish a post game and scoring was tough at times.  Seniors Justin Finkbine and Camden Cook both score in the paint. (Dale Barger Photo)
You know the good thing about this team is we got multiple guys who can make shots and our defense has been good.  We can wear teams down and it was on display tonight at different times as guys stepped up make some big plays.  Anytime your defense can hold a team to 28 points you're probably going to with that game," Sagester concluded.
Tri-Village will play at Milton Union in a tough non-conference matchup Saturday night.
Box Scores:
Score By Quarter:
Tri-Village        11        13        15        17 – 56
Arcanum         06        06        12        04 – 28
Team Scoring:
TV – Sagester 9, Delong 13, Suggs 8, Call 4, Printz 2, Keating 13, S. Cook 1, Finkbine 4, C. Cook 4
ARC – Kessler 1, Lock 7, Garno 2, Psczulkoski 2, Christ 8, Burke 2, Sharritts 6