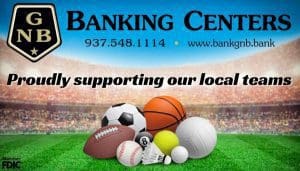 BRADFORD – The Tri-Village Patriots kept its undefeated WOAC record intact with a 70-29 win over the home standing Bradford Railroaders.
After a slow start to the game, Tri-Village closed out first quarter play with a 13-4 lead with Wilson Suggs pacing the Patriots with 7-points.
Bradford carried its deliberate game into the second quarter with Tri-Village adding 14-points to the board while the Railroaders were getting its largest scoring output of the night with 9-points sending the teams to the break and the Patriots leading 27-13. Tri-Village got balanced scoring with six players putting points in the book while Tucker Miller was good for 6 Bradford points.
The Patriots came out of the halftime break blistering the nets for 27 third quarter points equaling its first half output while holding Bradford to 8-points to lead 54-21 after three complete.
"At the half we were 1-8 from the 3-point line and Justin Finkbine, our stalwart in the paint was 0-6," Sagester noted. "That is 1-14 and we were still up 14 so we knew we had to slow down in the pain, we knew we weren't going to shoot that bad in the second half."
"Sometimes when teams sit down and then come back out to give us that same punch – it's just not there," Sagester added. "We have some depth which has been a good thing for us."
Suggs led TV with 9-points including a 3-pointer, Dalton Delong and Justin Finkbine each added 7-points, and Tanner Printz was good for 4-points.
The Tri-Village fourth was played with the starters on the bench and a running clock over the final three minutes of the game with the visitors taking the quarter 16-8 and the win.
"Defensively we were really good," said Sagester. "I thought Camden Cook was really good on the glass for us today – was a presence and he continues to get better and better, finished a few around the rim and allows Justin to play more with a little reckless abandon. He doesn't have to be a rim protector.  Cam's kind of our rim protector behind him. Cam had a really nice game."
"Dalton (Delong) is a really good on-ball defender for us," continued Coach Sagester. "He doesn't lose his guy, he has good IQ, he listens, he's really good. He's been really good for us his whole career. He usually guards the other team's best player, takes it as a challenge, obviously did a good job tonight. Braden Keating came in and did a good job as well and gave Dalton a blow here and there."
Bradford continues to play without the services of the team's leading scoring, Parker Davidson who went down early in the year with a season ending injury.
"Bradford is a tough place to play," Coach Sagester said. "They have a good basketball team and it's unfortunate with the Davidson kid. He was a very good player. I feel for him, the community and the team but their kids still fought hard tonight and was definitely competitive. Jay (Coach Hall) does a good job with them."
Suggs led Tri-Village and all scorers with a game high 18-points. Miller led Bradford with 15-points.
BOXSCORE:
TRI-VILLAGE 70, BRADFORD 29
TRI-VILLAGE – W. Suggs 18, D. Delong 14, J. FInkbine 11, T. Sagester 9,T. Printz 6 L. Call 4, R. Wehr 3, C. Cook 3, B. Keating 2 – TOTALS 24 7-12 5 70
BRADFORD – T. Miller 15, H. Hill 5, L.  Monnin 4, Z. Harleman 3, L. Wills 2 – TOTALS 6 8-16 3 29
3-POINTERS
Tri-Village 5 (D. Delong 3, T. Sagester 1, W. Suggs 1, R. Wehr 1)
Bradford 3 (L. Monnin 1, H. Hill 1, Z. Harleman 1)
SCORE by QUARTERS
13-14-27-16 70 Tri-Village
04-09-08-08 29 Bradford