GREENVILLE—David Torrence sat in the Greenville High School for about 12 years watching boys basketball games as an assistant high school principal.
Although he left Greenville four years ago, he occaisonally finds himself back on campus on the other side of the gym as the principal of Xenia High School.
Just four months after he started at Xenia, COVID-19 shut down schools.
"I'm not sure honestly that there aren't people there that think I brought COVID, that it happened because I was named building principal," he said. "I was really excited, though. our Superintendent Dr. Gabe Lofton, is a great guy. He's very approachable."
He said the first couple of years following the post-pandemic return to school were an adjustment.
"There was still some feralness that still needed to be worked out," he said. "I think now, kids are happy to be back in something that they thought normal was going to be."
"We redid our schedule this year," he said. "We've got most of our freshman eating in the same lunch period and we've got most of our sophomores in the same lunch period, most of our juniors and seniors in the same lunch period. The first month, that first lunch period, the group of freshman, those kids were crazy. There was 280 of them, that was kind of exciting. It took some time to get them in line. I walked down there yesterday, and those kids are just as calm and as quiet as my seniors are. The routine is no longer exciting and new. We know what's going on, we know what's going to make people unhappy if we do it. We don't do it. I see growth coming back."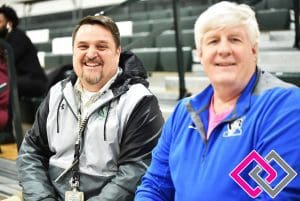 Although it's been an adjustment, Torrence said the enjoys he new job. Xenia is currently building a new middle school, and plans to make renovations to their high school afterwards.
"The high school is kind of like a community treasure, because it's the one that got built after the tornado in 1974, so we have a bunch of people who believe it's a shrine and that you cant touch it," Torrence said. "We just spent a lot of money on a really nice auditorium that I would hate to give up. The high school, it's got good bones, we can renovate some stuff and add on to it and I think it will become a perfectly usable building. It's a nice location and I think it's got some really nice things about it."
Known as Mr. Torrence to his former students, he came to Darke County in 2006 when Chris Mortensen was the Greenville High School principal, and stayed through the current principal Stan Hughes.
"I enjoyed my time at Greenville," he said. "This is a great place. I have really great memories of a lot of the people here. I stopped and got gas, and saw a kid who graduated in 2016. He said he's doing student teaching now. I said, 'What a fool you are to go into teaching.' Then I thanked him for going into teaching, that's what I usually do for people who tell me they want to teach. It's a good community with a lot of good people."
Torrence said he's not looking to retire right now, but when it's time, he will know.
"I'm looking forward to a time to retire," he said. "When it happens, it happens, and I'll be glad. I'll know when it will be time to go."