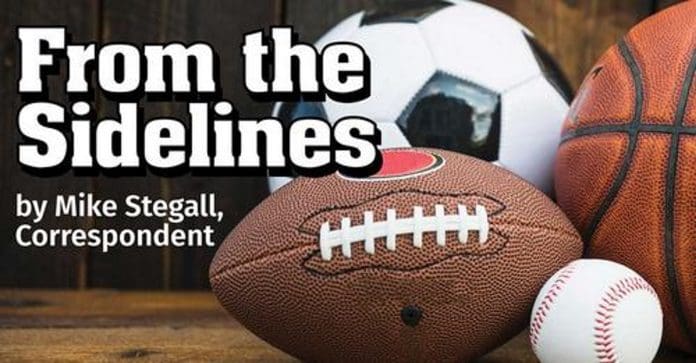 By: Mike Stegall
Once again, in late November, the two states of Michigan and Ohio State brace for a storm.  No, not a snow storm or even a wind storm, but something much, much more severe and one that has lasting effects for years.  Next Saturday at noon, the 2 best teams in the Big Ten will meet in Columbus and the winner will then get the chance to play for the Big Ten Championship, and if they win, then possibly for a National Championship. This is big!
For as long as I can remember, this has been "THE GAME" in college football.  There are other great rivalries, Clemson vs. South Carolina, Oregon vs. Oregon State, and Texas vs. Oklahoma to name a few.  But this, Ohio State vs. Michigan, is the granddaddy!  There is none bigger, or draws more national attention. 
I guess this rivalry was always good, but it really got going during the Woody Hayes, Bo Schembechler era.  Those games were epic! Since those two coaches, it seems that this rivalry has become more intense, more……….personal.  I think that Coach Ryan Day of Ohio State and Jim Harbaugh of Michigan really don't like each other!
No matter the personal feelings, this game normally affects the national rankings in some way.  I am sure that the winner will be in the final 4 rankings for a chance at a national championship.  Maybe both, if the game is close.  Right now, Ohio State is ranked #2, and Michigan is #3.  Both are well deserved, and it should be a great game, with a lot on the line for both schools.  Both schools want this one bad, and I hope there are no problems.  The fans really get into this one!  So, only one question needs to be asked at this time: Who do you think is going to win?…..I'm glad you asked!
Both teams are very good offensively, although they go about it differently.  Michigan likes to run the ball, Ohio State likes the pass.  Michigan's defense is a little better I think, but there offense seems to stutter if they have to rely on the pass.  Ohio State's defense is much improved, but is still a work in progress.  Defensive coordinator Jim Knowles is building something at Ohio State, and it will take time, but a lot of progress has been made.  Still, I have to give the edge defensively to Michigan.
Offensively, I think it is very hard to pick anybody better than Ohio State.  However……this year has been difficult because of injuries.  Ohio State has not had one game all year where every starter played!  Jaxon Smith- Njigba has been absent all year, and he could be the best receiver in the country.  Ohio State is down to their 3rd and 4th string running backs too. 
At this writing Blake Corum, the star running  back for Michigan, is possibly out for the game.  This will have to give the edge to Ohio State because Ohio State still has plenty of receiving talent.  If Corum plays, that evens it up more, but Ohio State has shown the ability to score against anybody, so Ohio State gets the edge here. 
It looks like the weather will not be a concern, but the home field advantage is in the Buckeyes favor.  In games of this intensity, I have to give a very slight edge to the home team.  I don't think it counts as much as people think, but it is an advantage.  Special teams are just about even.  No real advantage for either team, and as for coaches, both are the very good.  The only thing that bothers me about Ryan Day is I think at times he falls way to much in love with the pass.  Ohio State must run the ball effectively against a stout Michigan front, or it will be a long day.  At some point on 3rd and 1, Ryan will have to rely on his offensive line to get that 3 feet!  Sometimes, he will throw a quick out, and that is not always successful.  This will be a physical game, and the most physical usually wins.  
Both teams are very good, both have their strengths and weaknesses, it just really comes down to who wants it more.  I think Ohio State will want it more because they lost last year.  Michigan wants it more because of the beating they took in the previous 8 games until last year, and a horrible 3-17 record against the Buckeyes since 2000!
Should be a heckuva game; close, hard fought, controversial, and bragging rights for another year.  Ohio State is beat up, has a lot of starters hurt, but still is loaded with talent, but the talent hasn't played as much.  Michigan will live and die with Blake Corum, if he is injured and can't go the whole game that puts them at a disadvantage.  This is really close, but………… I like the Buckeyes, 28-20.  That's the way I see it, from the sidelines.