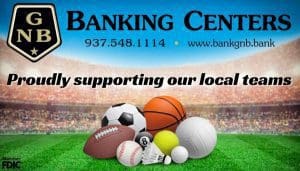 GREENVILLE – The Sidney Lady Yellow Jackets rolled into Greenville with a perfect 8-0 MVL season mark and kept the string alive with a 51-26 win over the Lady Wave.
"Our girls played hard, they bought into what we were trying to do," said Greenville coach Rachael Kerns. "There are a lot of little moral victories even though the score was kind of lopsided. Overall really proud of the effort. It was definitely a hard fought game tonight."
Greenville kept the game close in the opening period holding the Lady Jackets to single digits on the board for a 9-6 Sidney lead after one quarter of play.
The Lady Wave defense continued to keep the Lady Jackets under their game average in second quarter action with the visitors taking the period 13-5 sending the teams to the break with Greenville trailing 22-11.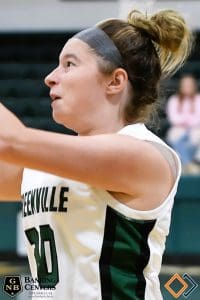 Period No. 3 proved to be the Lady Wave's best offensive output of the night putting 11-points in the book with Minaxi Pandey sinking her second 3-pointer of the night, Josie Camocho draining a trey and freshman, Sara Loudy hitting her second basket of the night. The Lady Jackets put up 16-points in the quarter for a 38-22 advantage after three complete.
"Sara Loudy…freshman, throwing her at the wolves, bringing her in and throwing her at the big dogs," Kerns stated. "By far the best defensive team we're going to see in our league and she really did a good job."
The fourth quarter saw Pandey take a hard fall to the court and leave the game with the teams playing to a 13-4 score giving the visitors the win to stay undefeated in the conference.
"When you're the undersize team that is not usually to your benefit," said Coach Kerns. "Sidney is really good. They've had one league game that was close going into the fourth quarter, so starting our second half I was really pleased. That third quarter we were still hanging kind of tight with them."
Allie Stockton led Sidney and all scorers with a game high 19-points. Pandey paced the Lady Wave with 8-points.
BOXSCORE:
SIDNEY 51, GREENVILLE 26
SIDNEY – A. Stockton 19, J. Scully 13, R. Clark 9, L. Brewer 4, L. Vordemark 4, K. McNeal 2 – TOTALS 17 5-14 4 51
GREENVILLE – M. Pandey 8, S. Fletcher 6, S. Loudy 4, J. Camacho 3, M. Lind 3, B. Schmidt 2 – TOTALS 5 7-15 3 26
3-POINTERS
Sidney 4 (J. Scully 3, A. Stockton 1)
Greenville 3 (M. Pandey 2, J. Camacho 1)
SCORE by QUARTERS
09-13-16-13 51 Sidney
06-05-11-04 26 Greenville