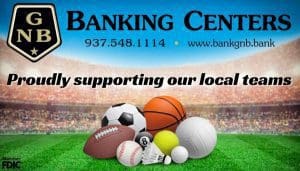 VERSAILLES – The Versailles Lady Tigers dropped a 44-26 conference basketball game to the visiting Parkway Lady Panthers.
Solid defensive play and a slowed down Versailles offense had the visitors taking the opening period 11-9 over the Lady Tigers.
"I felt like our defense was clicking," said Versailles coach, Tracy White. "We were talking, we were getting our rotations and we were following what we worked on in practice to a 'T' in the first half and then we lost a lot of discipline."
Jenna Dirksen drained a 3-pointer at 7:35 in the second quarter to give Versailles a 12-11 lead and nailed a second triple with 6:22 on the clock to give the Lady Tigers a 15-11 advantage before the wheels fell off.
Versailles would not score again in the second with Parkway closing out second quarter play on a 6-0 run sending the game to the break with the Lady Panthers holding a slim 2-point 17-15 lead.
Period No. 3 went to Parkway by a 10-4 score to lead 27-19 with one quarter to play.
"Second half was not good for us," said Coach White. "We didn't look to attack on offense, we didn't run our sets, we had people doing whatever they wanted to do vs getting in set and then everybody just stood. It's hard to beat a good team when you're going one on one and you're not running through plays."
Parkway used a 17-7 fourth quarter to earn the 18-point MAC win while allowing just three Lady Tigers to get in the scoring column.
"We didn't have a lot of the girls looking to score, setting good screens and running hard cuts," White stated. "We just played scared especially in the second half."
With the win Parkway improves to 11-1 over all and 4-0 in the MAC. Versailles falls to 5-7 overall and 3-2 in conference play.
BOXSCORE:
PARKWAY 44, VERSAILLES 26
PARKWAY – G. Stober 18, A. Hughes 12, A. Williamson 8, A. White 3, A. Miller 2 – TOTALS 12 8-10 4 44
VERSAILLES – J. Dirksen 15, A. Schwartz 6, K. Litten 5 – TOTALS 7 6-7 2 26
3-POINTERS
Parkway 4 (G. Stober 2, A. White 1, A. Williamson 1)
Versailles 2 (J. Dirksen 2)
SCORE by QUARTERS
11-06-10-17 44 Parkway
09-06-04-07 26 Versailles