GREENVILLE—Tony Schultz decided once again this year to display his Christmas Village.
Why not? He's been doing it since 2008.
"Every year I say it may be my last, but now we have a great-great-niece," he said. "I do it for the children."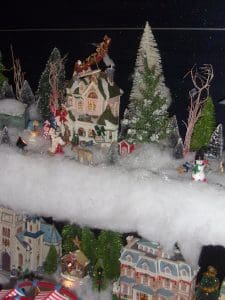 The main reason he has done it all of these years was because of their grandchildren, who, of course now, are getting older.
"It started when I bought a couple of Victorian-style houses and some figurines, including a bride and groom to surprise Becky the first Christmas after we were married in 2005. After that, we just kept adding to it."
All of that is still there with a lot of items added over the years.
"It kept getting bigger and bigger," he said. "Our great-nieces and nephews come over for candy canes, Santa hats and lighted necklaces."
The items in his Christmas Village are kept in his barn and his attic.
A Polar Express train is among the featured items and it runs on a track over part of the display. He also has numerous other buildings, a skating rink, a ferris wheel, a carousel, two lighthouses, two hot-air balloon rides, and a working water fountain…all lighted to the enjoyment of family and guests.
They even have a tiki bar in the village, which matches the one they have in their backyard.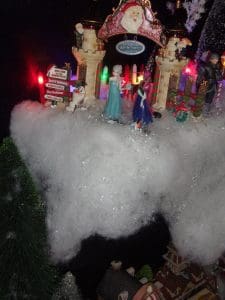 "I added a gondola a couple of years ago," said Tony, who indicated the village will not be expanding as there is no more room.
His estimates his collection now includes at least 63 buildings and 11 animated features.
Also featured are a winery, an Irish pub, a tavern, a bridge leading to a cabin and a hunting scene, municipal buildings of all kinds, a public park with a skating rink, a ballroom, movie theater, toy shops, churches, bakeries, B&Bs, another public park and ice skating rink, a schoolhouse a large pond with boats, fishing shacks and the lighthouses, ending with a large ski slope.
Quite a few scenarios in that Christmas Village entertain those who visit the Schultz home.
In the center is the winter carnival with all the animated rides and several food, band, beverage kiosks.
It takes him three days to set up the frame and put the buildings down.
Then, Becky, who has worked at the Brethren Retirement Community for six years, spends three of her days decorating the exhibit with people, trees and snow, the latter using cotton.
He said he has to clean it all off before bringing it inside to assemble, and noted that the entire exhibit measures 4 1/2 feet at its widest and is 25 feet long.
"I'm no spring chicken anymore," said Tony, who has gotten most of his Christmas Village pieces at Lowe's, from where he retired.
The Schultzes said they also decorate the outside of their home on Clifton Drive west of Greenville (just off of State Route 571)
a little bit. He said the grandchildren, Evan and Chelsea Duncan and Gauge and Brynlee
McKee, aren't as interested anymore now that they're older.
"This was just going to be a one-time thing but this went out of control," said Tony. "People call me and ask if they can come here and see the Christmas Village. That's the reason why we do it. Kids are mesmerized. I like to watch the kids' reactions."
Tony enjoys the train as much as he does the first piece they put in the collection.
It was noted in a previous interview that they didn't start exhibiting the village until it grew to be quite sizable and they moved to a bigger house.
It was then, too, that they had two grandsons for whom they wanted to do something memorable.
"It's all about family," Tony concluded. "I consider it a labor of love because of that."