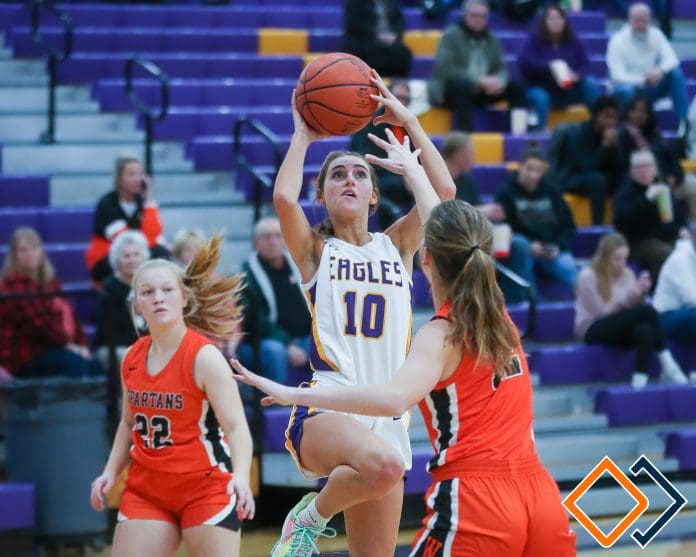 Eaton girls take on SWBL opponents
Eaton's girls' basketball team took on two of the SWBL's top teams this past week, Bellbrook and Waynesville. The Eagles' opponents were the top two teams in the SWBL's East Division last season.
The Eagles battled Waynesville at home. Only one point separated the two teams in three of the game's four quarters, but the third quarter proved to be the difference. Waynesville held a two-point edge at halftime, 33-31, but outscored Eaton 16-10 in the third. Eaton was able to play even in the final quarter, but could not make up the deficit.
On Monday, Eaton travelled to Bellbrook to take on the Golden Eagles. Both teams came into the game 2-0 on the season. Eaton was unable to control Bellbrook's offense and dropped their first game of 2022-23, 74-32.
Eaton is now 2-2 on the season, 1-1 in the SWBL. They are scheduled to play at Madison on Thursday, Dec. 8.
Arrows top Arcanum, 53-42
Preble Shawnee's girls' basketball team used a 14-2 third quarter run to take control of a close game against Arcanum.
Arcanum held a two-point lead at halftime, 25-23. Preble Shawnee, however, controlled the third quarter holding Arcanum to just two points. They built a 10-point lead going into the final period and finished with a 11-point win, 53-42.
With the win, PS pushed its record to 3-1, 2-0 in the WOAC. They were set to play Monroe on Saturday, Dec. 3. They are scheduled to be on the road this coming week, at Madison on Tuesday and at Franklin Monroe on Thursday.
TV South comeback falls short
Twin Valley South's girls' varsity basketball team bounced back from a 12-point halftime deficit, but came up short against Newton.
Down 22-10 at halftime, South came back in the second half to make the game close. They outscored the Indians 28-17 in the second half, but lost by one, 39-38.
The Panthers were led by junior Sidnee Elswick with 12 points. Freshman Brylii Day added eight points and pulled down 14 rebounds. Maci Arndts and Jordan Ritchie each added seven points.
TV South is scheduled to travel to Tri-County North on Thursday, Dec. 8.
National Trail dominates Bradford
National Trail's girls' basketball team cruised to a win at Bradford. The Blazers' defense held Bradford to five points or less per quarter in a 35-point win.
Ashlynne Osbourne led the Blazers. The NT senior scored 20 of the team's 48 points. Maddie Harrison added six points and seven rebounds. Hannah Henderson scored six points and pulled down five boards.
The Blazers played a strong first half against Franklin, taking a 16-2 lead into halftime. But the Wildcats regrouped and came back in the second half. NT led by nine at the end of the third quarter and held on for the 31-25 win.
Harrison led the Blazers with 11 points, followed by Osborne with eight. 
The pair of wins pushes NT's record to 5-1 overall. National Trail hosts two games this coming week, Northeastern (IN) on Tuesday, and Mississinawa Valley on Thursday.
Arrows open WOAC schedule with win
Preble Shawnee's boys' basketball team opened Western Ohio Athletic Conference play with a win over Arcanum, 47-40. The Arrows are 2-0 on the season overall.
In a close game, the Arrows took a two-point lead into the fourth quarter. They were able to edge Arcanum 14-9 in the final period to hold on for the win. 
Mason Shrout led the Arrows with 15 and Isaac Blankenship added 13. PS will travel to Ponitz for a non-conference game on Tuesday, Dec. 6, and then host Franklin Monroe on Friday. 
TVS drops WOAC season opener
Twin Valley South's boys traveled to Newton to open WOAC play. The Panthers fell behind early and were unable to recover, suffering a 50-37 loss.
Newton jumped out to a 21-5 advantage in the first quarter. The Panthers picked up the pace and played even for the remainder of the game, but could not make up the early deficit.
TVS is now 1-2 on the season. They will host two WOAC opponents this coming week with Franklin Monroe on Tuesday. Dec. 6, and Tri-County North on Friday.