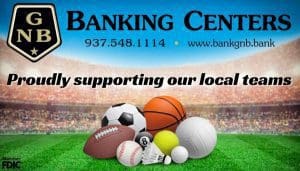 Eaton bounces back with win over Ross
After struggling offensively in a 33-30 loss to Brookville, the Eaton's girls' basketball team bounced back to score 65 points against Ross. The Eagles built a 33-16 lead at halftime and held off the Rams in the second half for the win.
The non-conference win pushes Eaton's record to 4-3, 2-3 in the Southwestern Buckeye League. They return to SWBL play on Thursday at Valley View.
T-C North picks up win over Newton
Tri-County North 45, Newton 32
Tri-County North's girls' basketball team picked up a win over Newton in Western Ohio Athletic Conference action. TCN is now 5-2 on season, 2-1 in the WOAC.
In a close game, North led by just four points at halftime, and six at the end of the third quarter. They finished strong, outscoring Newton 16-9 in the fourth to take a 45-32 win.
The TCN players reached double-figures, led by Rilee Terry with 14 points. She also pulled down 18 rebounds. Hannah Webster added 13 points and 17 rebounds. Bella Cherry scored 10 points and handed out four assists.
North is scheduled to play at Bradford on Thursday, Dec. 15.