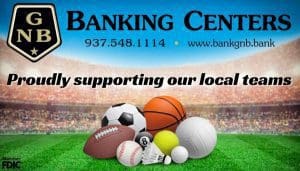 Columbus OH – The Tri-Village boys basketball team continues to challenge themselves by starting the new year off playing Parkersburg, West Virginia Monday night at the Harvest Prep Second Annual Showcase.
Parkersburg South is the 5th largest school in West Virginia and was State Runner-up in basketball last season with some key players returning this year.­
The Patriots although 5 times smaller in enrollment was up to the task and held the lead for nearly 3 ½ quarters before Parkersburg South finally grabbed the lead and never relinquished it going on to claim a 69-63 win.
Parkersburg coach Mike Fallon later tweeted, "it was a hard-fought win against a very good and very well coach team and a fight to the end, but we found a way to win"
Parkersburg pressure over the course of the game took a toll on Tri-Village and despite not having a single turnover in the 1st quarter they ended the game with 23.
The other telling stat in the game was Parkersburg went to the free throw line 20 more times than TV and shot an amazing 30-34 from the charity stripe.
Despite the foul trouble and turnovers, the Patriots had opportunities to win the game so if anything, it should give the team confidence they can compete at a high level with top caliber teams.
"We competed with the #2 team in State of WV in the largest division a team who lost in the state finals last year and retuned the majority of their team. We played very hard and led most the way and executed the game plan defensively. Definitely it was one of our best outings even though we let one slip away. Our schedule has been second to none up to this point and I can see us getting better," Tri-Village coach Josh Sagester said after the game.
"This was a great event, and we appreciated the opportunity and hospitality by coach David Dennis and the Harvest Prep Program," Sagester concluded.
Wilson Suggs led Tri-Village with 22 points and was game MVP.
Justin Finkbine had 15, Tanner Printz & Trey Sagester each had 6, Dalton Delong 5, Camden Cook 4, Braden Keating 4 and Seth Cook 2.
Tri-Village currently stands at 7-3 overall and 4-0 in the conference and will have a big match-up Friday when they host 8-2, 4-0 Dixie in a big WOAC match-up.