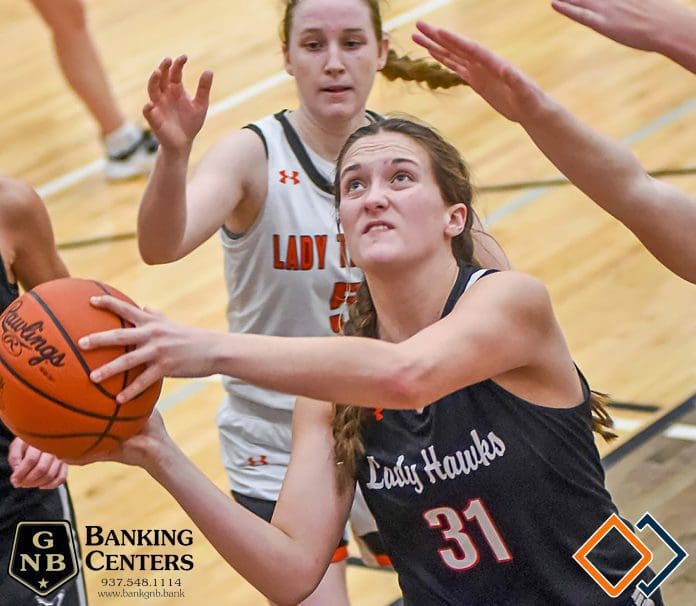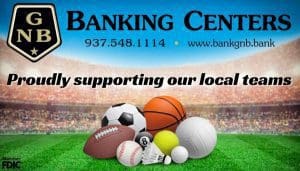 ARCANUM – The Lady Hawks swooped into Arcanum and picked up a 57-42 WOAC win utilizing good defense and getting scoring production across the board.
Coming into the game Mississinawa Valley point guard Taylee Woodbury who is the 3rd leading scorer in the league at just under 17 points a game scored just 5 points in the contest which would concern most coaches, but Blackhawks coach Michael Paige viewed it differently.
"Obviously, Taylee and Sienna (Purdin) didn't lead us in scoring tonight … but that just means our team is getting better every game," coach Paige stated.
In our last game out with Twin Valley South we played as a team, we moved the ball around well and had everybody scoring and since then we've been playing better as a team and getting more production out of other players, which is going to get us prepared for the tournament," Paige added.
In that game 14 Blackhawk players saw action with 10 scoring in the game.
But Arcanum is a team under veteran coach Abbey Moore known to be solid defensively and despite losing several 4-year players from last year's 21-3 squad you can expect to get a good test.
In the opening frame Arcanum was doing a good job man to man with senior Kaitlyn Toy assigned to slowing down Woodbury and she was up to the task as she scored just 5-points in the game.
However, the Hawks were able to exploit the inside with 6'1" jr. MaKenzea Townsend as she scored all 9 of her game points to give Mississinawa a quick 12-5 lead at the 4-minute mark.
Arcanum countered with five-points from sophomore Brooke Anderson, four-points from sophomore Alexis Gibbons and a floater by Kaitlin Toy … but it wasn't enough with Mississinawa adding four-points from Brenna Price and a fielder by Ingrid Ojeda to give the Blackhawks an 18-11 lead after one quarter.
Senior Jocelyn Hoggatt got hot in the 2nd quarter scoring 10 of her game high 18 points, she would connect on 4 triples in the game.
Mississinawa opened a 32-15 … but the Trojans began attacked the Mississinawa full court pressure with Gibbons getting to the rim for a score or kick out.  She scored 6, while Anderson and junior Rylee Leeper hit threes along with freshman Faith Wooten a fielder inside to help close the gap at half to 36-25.
In the 3rd quarter MV started strong again on two quick scores by junior Brenna Price only to see the Trojans score 7 straight to get the margin down to 8-points 40-32 at the 4:36 mark.
The Hawks fired back with triples from Hoggatt and Syenna Purdin and finally at the two-minute mark saw point guard Taylee Woodbury connect from long range followed by a lay-up to go up 51-32 heading into the final stanza.
For coach Abbey Moore she can take a positive from the game as her team got down but battled back each time closing the gap to 51-40 … but the Hawks answered each run they made.
"I have a lot of respect for coach Moore, it was frustrating we couldn't put them away … but at the same time we kind of expected it with this team. We watched film of the Minster game and saw them come back and only lose by six or seven so they're a good team and Abby's got them playing well.  They never stopped fighting so, we didn't think at any point we would just pull away from them completely and kept fighting our best till the end," Paige commented.
Freshman Brooklynn Seubert scored 4 points late for Mississinawa who went on to win the game 57-42.
Arcanum was led by Alexis Gibbons with 16 and Brooke Anderson 9 points, they fall to 4-9 overall and 3-4 in the WOAC.
Mississinawa was led by Jocelyn Hoggatt 18, Brenna Price 10 and MaKenzea Townsend with 9 points.  They improve to 11-2 overall and 5-1 in the WOAC one game behind Tri-Village and Preble Shawnee.
Coach Paige believes his team is making progress but has room for improvement.
"I mean we're not at our full potential yet, we have girls who can shoot but just haven't been shooting. Tonight, Jocelyn hit shots, Sienna was hitting at the beginning of the year and went into a slump and Taylee was off tonight as well.  We haven't had a game yet where Taylee, Sienna and Jocelyn are all hitting shots so, we still haven't hit our full potential yet.  We're getting better every game as a team," Paige concluded.
The takeaway for the rest of the league … the Hawks haven't yet reached their full potential … but they took a step in the right direction tonight and that will be enough to keep most coaches up late at night.
BOX SCORE
SCORE BY QUARTERS
MV       18        18        15        06 – 57
ARC      11        14        07        10 – 42
TEAM SCORING
MV:      Ojeda 2, Woodbury 5, Hoggatt 18, Fritz 2, Price 10, Purdin 5, Seubert 6, Townsend 9
ARC:     Miller 2, Gibbons 16, Anderson 9, R. Leeper 3, Long 3, Toy 6, Wooten 3