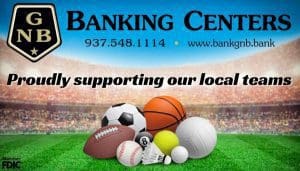 WEST MILTON – The Milton-Union Bulldogs started strong and hung on for a 60-50 non-conference win over the Tri-Village Patriots.
The Bulldogs bolted out to a 9-0 lead at 5:23 in the opening period and pushed its lead to a double digit 15-5 score on their way to a 22-10 lead with one quarter in the book.
Milton-Union extended its lead to 25-10 at 7:42 in the second and 27-12 before the teams would play to a 6-6 score in Period No. 2 sending the teams to the break with the home team holding a 28-16 lead.
Tri-Village won the battle of second half play by a slim 1-point advantage in both the third and fourth quarters only to come up short on the night.
The Patriots made an early fourth quarter scoring run to close the Bulldogs lead to 5-points; 43-38 before Milton-Union would close out scoring with a 17-12 run over the final five minutes of play to earn the win.
Justin Finkbine led Tri-Village and all scorers with a game high 19-points. Milton-Union got balanced scoring with four Bulldogs in double figures led by Cooper Brown's 18-points.
Tri-Village was a perfect 12-12 at the charity stripe. Milton-Union also had a good night at the free throw line going 16-22 for 73-percent shooting.
BOXSCORE:
MILTON-UNION 60, TRI-VILLAGE 50
MILTON-UNION – Cooper Brown 18, B. Brumbaugh 16, C. Yates 10, T. Kress 10, Carson Brown 5, Z. Lovin 1 – TOTALS 19 16-22 2 60
TRI-VILLAGE – J. Finkbine 19, W. Suggs 16, T. Printz 7, T. Sagester 6, D. DeLong 2 – TOTALS 16 12-12 2 50
3-POINTERS
Milton Union 2 (B. Brumbaugh 1, Cooper Brown 1)
Tri-Village 2 (Trey Sagester 2)
SCORE by QUARTERS
22-06-13-19 60 Milton-Union
10-06-14-20 50 Tri-Village