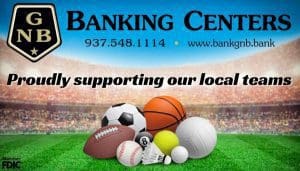 GREENVILLE – The Lady Wave defeated the visiting Piqua Lady Indians 49-23 in Saturday MVL action getting good inside post play from Megan Lind and Gracie Thacker and a 20-point game from senior guard, Minaxi Pandey.
"We have to utilize them," Greenville coach, Rachel Kerns said of the team's inside game. "When we were struggling to score a little bit, our post players weren't scoring. They have to finish and they had some great looks."
"Our guards are finding them when they're open," Kerns continued. "Anytime you get three girls in double figures good things are really going to happen. I'm excited to see Minaxi go in and out. She needs to continue to do that but it's great when our posts can score."
The teams played to a 10-9 Greenville lead after one quarter of play with Megan Lind leading the Lady Wave with 4-points and D'vaya Cooper scoring 6-points for Piqua including a perfect 4-4 at the charity stripe.
"I wish we would have come out a little bit stronger," said Greenville coach, Rachael Kerns. "I felt like we were a really flat to start the game."
The Lady Wave took advantage of a stingy defensive second period to keep the Lady Indians off the board while Greenville was putting 13 points in the scoring column led by Minaxi Pandey's 5-points including her first of three 3-pointers on the day.
Period No. 3 went to Greenville 14-6 with Pandey knocking down 8-pints including a triple sending the game to the fourth quarter with the Lady Wave holding a comfortable 37-15 advantage.
Greenville closed out the day taking the final quarter 12-8 to earn the early season MVL victory.
The Lady Wave have struggle through injuries and sickness in the early season going and hope to take advantage of the Christmas break but not before facing Bloom Carroll and Parkersburg, WV this coming Wednesday and Thursday at Mount Union Nazarene University.
"It looks like our first game is going to be a pretty tough one but our second game we don't know a lot about them," said Kerns. "That's the good and the bad about going to some of these, you don't know what you're going to see but we play just those two. After that we get the rest of the year off and then we'll open up after the first of the year. Health wise where we're at – I have one or two not here but we're holding strong right now. We're learning to become the team that we're going to be with what we have – we'll see how the new year comes in."
Pandey led Greenville and all scorers with a game high 20-points.
BOXSCORE:
GREENVILLE 49, PIQUA 23
GREENVILLE – M. Pandy 20, M. Lind 11, G. Thacker 10, S. Fletcher 4, S. Loudy 2, J. Camacho 1, Brooke Schmidt 1 – TOTALS 17  6-12 3 49
PIQUA – D. Cooper 6, A. Bean 6 A. Brookhart 4, A. Lambert 3, A. Carroll 2, L. Spradlin 2 – TOTALS 5 7-10 2 23
3-POINTERS
Greenville 3 (Minaxi Pandey 3)
Piqua 2 (A. Lambert 1, A. Bean 1)
SCORE by QUARTERS
10-13-14-12 49 Greenville
09-00-06-08 23 Piqua