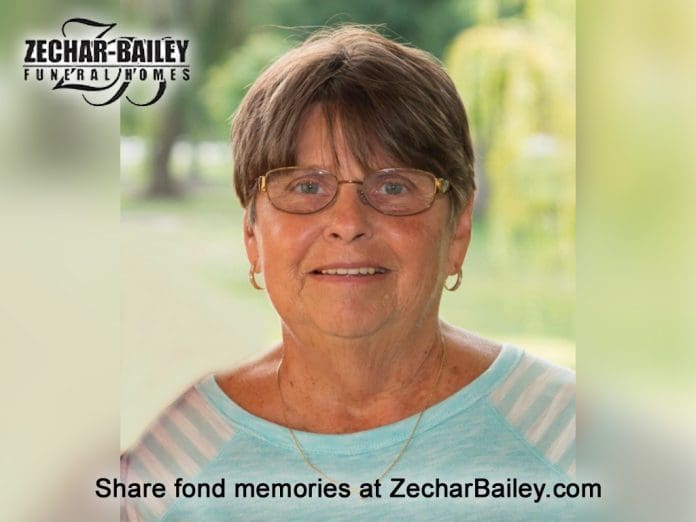 Mary Ann Caldwell, age 74, of Greenville passed away at 12:32 am on Friday, November 25, 2022, at Miami Valley Hospital in Dayton.
Mary Ann was born June 18, 1948, in Greenville to the late Rome & Francis Lantz. She was preceded in death by her brothers, Lowell, John, and David Lantz; sister, Jean Shepherd; and niece, Claudia Shepherd.
Mary Ann is survived by her husband of 52 years, Chip Caldwell, whom she married October 17, 1970; children, Matt & Tara Caldwell of Tipp City, Brock Caldwell & Sarah Stafford of Columbus, and Megan & Ryan Delk of Greenville; grandchildren, Griffin Caldwell, Rylan Caldwell, Seth Delk, Kale Delk, and Ruby Delk; brother & sister-in-law, Steve & Francia Lantz of Candler, North Carolina; sister & brother-in-law, Paula & Jack Weitz of Celina; and numerous nieces and nephews.
Mary Ann graduated from Wright State University with a B.S. in Education. She retired from Greenville City Schools where she was a kindergarten teacher for 26 years. Mary Ann was a member of the Greenville Retired Teachers Association, lifetime member of the Greenville Alumni Association, and former board member of the Greenville Schools Foundation. Mary Ann attended the Greenville Missionary Church and Bible Study Fellowship in Richmond, Indiana. She was an avid supporter of Greenville Athletics and loved attending her grandchildren's events in Greenville and Tipp City. Mary Ann enjoyed sitting in the sun next to the pool and outings with family and friends. In her earlier years, she enjoyed bowling and her adventures with Wandering Wheels, a bicycle tour group.
A celebration of Mary Ann's life will be held at 2:00 pm on Thursday, December 1, 2022, at Zechar Bailey Funeral Home in Greenville with Rev. Gary Oser officiating. Burial will follow at Greenville Union Cemetery. The family will receive friends on Thursday from 12:00 to 2:00 pm at the funeral home. Memorial contributions may be made to Greenville Missionary Church: 1110 North Broadway, Greenville, Ohio 45331. Fond memories and expressions of sympathy may be shared at www.zecharbailey.com for the Caldwell family.