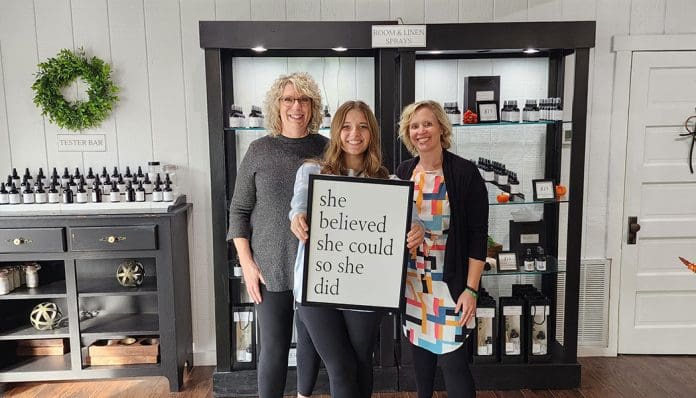 PREBLE COUNTY, Ohio – Lori Pheanis, owner of 1893 Storehouse Co., is always looking to make connections with people who want to make a difference. When she saw Heather Suerdieck, head coach and owner at Inside Out Coaching LLC, receive My County Link's Impactful Rippler Award, she knew she had to reach out.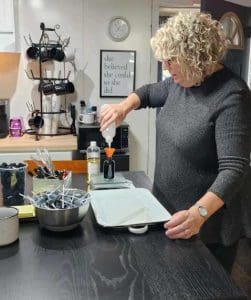 "I'm always looking for like-minded people who want to make a difference," Pheanis said. "That's where my mind and heart always go no matter what I do. When I saw Heather's story, for her to give the students these bracelets that say You Matter, it just spoke to me. I needed to meet her. When we all sat down and heard her story, we asked what we could do to help. That's when Heather mentioned the leather bracelets." 
These leather bracelets have the message "You Matter" engraved. A big help with selling the leather "You Matter" bracelets at 1893 Storehouse Co. comes from her employee, Tri-County North Sophomore Emma Weigand. She was instrumental in taking on the project of creating a price, display area, and sharing her ideas. 
"Hiring Emma wasn't just hiring an employee," Pheanis said. "She's learning life lessons; she's not just selling products." 
Emma enjoys her job and is excited to be a part of the process of selling the You Matter bracelets and spreading its message. 1893 Storehouse Co. has sold over 150 bracelets since they started selling them in June. All the proceeds from these bracelets go back to Inside Out Coaching LLC's "You Matter" Movement. Emma, Lori, and their amazing community were able to sponsor over 200 students for the Preble County "You Matter" Bracelet Distribution in October.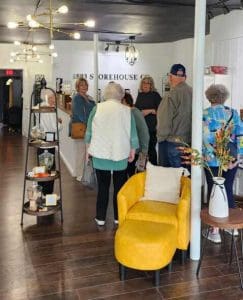 1893 Storehouse Co. is located on N. Commerce St. in Lewisburg, Ohio. It's a beautifully decorated store that is inviting and calming. You can find room and linen sprays, reed diffusers, liquid tarts and warmers, wax candles, and more. The store owner, Lori Pheanis, has been making scented oils for years as a side hobby and recently opened a storefront in October of 2022.
She named the store after her home she loved, which was built in 1893. The Storehouse part came from her late husband, who passed away about five years ago.
"He put this huge shed on our property that he wanted to turn into our workshop. I think it was two years after he passed, I was sitting on the back porch, knowing that I needed to create scents. Scents are so powerful to me. I looked over at the shed. I thought it looked like a storehouse. So, 1893 Storehouse and Co. just because I like it with a period. It makes it piece together." 
Pheanis wanted the store to have a feel-good environment. 
"I noticed everyone was so stressed.," Pheanis stated." Even before Covid, but Covid just ramped that up. People are carrying this heavy load. We just need to get back to the basics."
Pheanis shared how scents are so powerful to her. She creates her scents and goes to great lengths to ensure she only uses the finest quality for all her products. One of Emma's favorite parts of working at 1893 Storehouse Co is that "I love talking to people and hearing their stories. There was this older woman who came in, and I was talking to her, and we connected so much. Connecting with people also helps me help them pick out scents." 
She also has an area in her store for groups to get together and create scents, and she's been doing fresh herb butter classes. It's such a beautiful space to gather and have great fellowship. You can find more information on her Facebook page or stop in and have your own unique experience. Remember, when you shop locally, you invest directly in people's lives and create community.
1893 Storehouse Co.'s efforts have helped push the "You Matter" Movement forward. Spreading the message of hope, self-confidence, and the reminder that you are important and You Matter.
"The store is more than a store," Suerdieck said. "It's this space to grow things. It's just amazing."
If you would like to be a part of the You Matter project, please reach out to Coach Heather Suerdieck through her Facebook page, Inside/Out Coaching LLC, or email her at Heather.Suerdieck@gmail.com. Together, we can make a difference and continue showing others that they matter, and remember, You Matter!