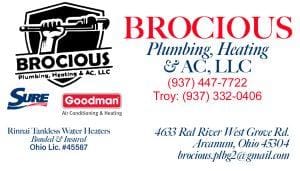 Yes, the Rossburg Firemen's Social celebrated its 66th event this past Saturday and, as noted in my headline, it never disappoints.
I've been going to most of these events, starting as a child, and we've always had fun, even when it rained. There is so much to offer. In addition to barbecued chicken with sides with each meal and homemade ice cream (not to mention homemade pies, hamburgers and roast beef sandwiches), there is socialization…sort of like a reunion for the people who have lived in the area most of their lives.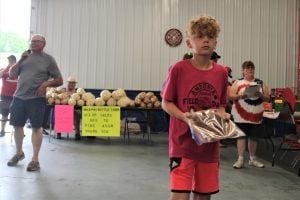 There are games of all kinds for the entire family, including youth tractor pulling, bingo, and games for the kiddies inside the fire department. This  year, there was a dunk tank, a bouncy house and, once again, a cake wheel.
There have been a variety of drawings in recent years and, wow, does that bring in the money for the fire department.
Those include a pie auction, which I heard set some records this year; and a silent auction, live auction, Queen of Hearts drawing and the annual raffle.
And, as always there is live entertainment, who this year performed outside. You will have to excuse me, but I didn't get to hear them, and I'm not sure who they were. One bit of information said they were the OTR (Off The Record) band and another bit of info called them the Vintage 3. Maybe they are known as both, but if I'm wrong, I extend my apologies.
I also apologize for not getting around to all of these events at the social, because of my walking "inabilities" but I'm hoping that will improve for future socials.
Jamie and I mostly stayed where there was bingo after we ate our chicken dinners, but we were there with the crowd when the prizes were awarded at the end of the evening.
At one point in time, Slug Widener, honored four of the fire department members: Angela Widener, for passing her state test for firefighter; Dillon Hackler, for passing the state Level 1 test and Parker Kaffenberger for passing state boards; and David Grilliot for passing the National Registry for EMR.
Widener also announced that former chief and safety director Doug Cothran is stepping down after 35 years of service with the fire department.
"We grew this department by leaps and bounds but I am going out of fire work," Cothran said. "It's a young man's game now, but I appreciate the support over the years."
I wish him all of the luck in the world. He has been a great communicator with me in my days of full-time journalism.
I secretly believe Doug  won't be able to stay completely away from the department, just as I couldn't really stay away from reporting because I still opt to do it on a part-time basis. However, that's his choice.
His wife, Carla, told me that she has stepped down from auxiliary work as well. I wish them both luck in the future.
I am sure we'll be seeing them at future socials hosted by the fire department. Thanks to the fire department for making our night complete.
******  
Jamie and I extend our condolences to the families and friends of Carolyn Castle, Jon Snyder (of Versailles), Marissa Portemont, Clifford Gibson, Robert L. Sherry, Fred Dafler, Ruthanna Rogers, Becky Harshman, Urban Drees, Janet Mong, Braxton Peters, Helen North, Carol Ritz and Charles M. Brown.
******  
Please pray for these people: Jamie Knick, Tommy Farmer, Margaret Hoening, Manual Macias, Kathy McNutt Dapore, Lester Beisner, Delores Beisner, Kermit Foureman, Chuck "C.W." Cruze, Mark Lovejoy, Connie Buemi Hodson, John Riegle, Michelle Grottle Wright, Cheryl Slonaker Gilmore, Judy York, Donald Booker, Dennis Leeper, Connie Stachler, Randy Heck, Ronnie Norton, Marie Schlechty, Jeremy "Jerm" Burke, Bev Brumbaugh, Gary Eichler, David Pretzman, Clinton Randall, Abby Heck, Linda Lore, Ralph Byrd, Beverly McCabe Baker, Doug Winger, Rusty Maloy, Debbie Mayse, Sonja and Dan Coppess, Jeanie Francis, Mary Moran, Harvey Hinshaw, Bruce Kaiser, Angie Brown, Nikole Baldridge, Amanda Mote, Tom Moody, Gary Francis, Anthony and Theresa Grillot, Lee Everhart, Paul Gigandet, Doug Whittington, Tracy Pratt, Kinley Bernard, D'Arleen Waymire, Tish Hodson Shepherd, Zach Urbancic.
Also, Sharon Gamster, John Rimmer, Joan Keen, Carol Hemmerich, Sharon Hummel, Dave Hinshaw, Larry P. Fitzwater, Jim Thomas, Neal Gray, Michael Mowery, Kenny Edwards, Judie Hathaway, Della Burch, Ned and Brenda Wallace, Rick Marker, Randy Garrison, Steve Waymire, Warren Menchhofer, Jannie Barrow, Kathy Gragorace, Danny Foster, Noella Combs, Clay Sheffer, Becky Everhart, Marie Rieman, Becky Oliver, Jayden Martin, Stefani Priest, Steve Neff, James Enicks, Joann Freeman, Cathy Collins Peters, Donna Bixler, Vanna Hannam, Linda Subler, Roger McEowen, Sally Burnett Ganger, Gloria Hodge, Jeff Baltes, Judy Hoffman and daughter Shelly, Cathy Melling, Scott Clark, and all of those who are suffering from other life-altering illnesses.
******
Happy birthday:
June 8 to Tracey Luce, Jared Faller, Ashley McEldowney, Ginny Towne Cox, Eli Meyer, Slug Midlam and Jodi Bennett.
June 9 to Susan Harbison, Velma Campbell, Phil Lawson, Rick Campbell, Cynthia Downey and Peggy Hollingsworth.
June 10 to Becky Everhart, Martha Duncan, Michelle Edwards Young, Teresa Clark Cromes, Kathy McGlinch Dapore, Jeremy Giesseman, Amy Aukerman Stump and Jennifer Beam Plessinger.
June 11 to Tedd Pratt, Derek Grote, Bruce Williams and James Miller.
June 12 to Rhonda Werner, Michele Smith, Michelle Gibbs Dale and Layna Best.
June 13 to Ted Riegel, Scott Kaiser, Tiffany Meckes Dickey, Jerrolyn Burk, Darrell Gower, Rex Kendall, Michael Wert and Teresa Neal.
June 14 to Connie Yohey, Scott Drew, Julie singer, Megan Johnson and Lisa Ralston.
Happy anniversary to Darrel and Jones on June 11; Marilyn and Galen Wetzel on June 12; Nate and Betty Burnfield and Norman and Deloris Miller, all on June 13; and Keith and Rikki Holton and Troy and Janet Kammer (20 years), all on June 14.  
******
Think about it: "Never lose time in vainly regretting the past or in complaining against the changes which cause us discomfort, for change is the essence of life."–Anatole France