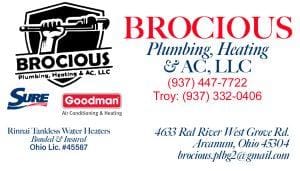 Wishing all you fathers out there a Happy Father's Day this coming Sunday.
Our father, Lee Jr. Moody, is no longer with us but I hope he knows he was loved and is truly missed.
I am sure all four of us siblings would agree that he was the greatest dad a child could have.
A workaholic himself, I think he taught all of us that work ethic.
Not only was he loved by his wife, us kids, but by his grandchildren and great-grandchildren. We loved him because he loved and cared for us and was our "protector." And, that's what fathers are supposed to do.
He was the oldest child of the late Clark Leroy and Laura (Shook) Moody. He was born in Celina but was a Darke countian most of his life, except for when he served in the U.S. Army in the mids-1940s.
Dad, who had a 43-year career at New Idea in Coldwater, was a lover of horses and he built his leisure time around them.
He was always full of advice, good advice, even if some of us didn't always agree on it.
He was one of five children, with his younger brother, Dan and Dan's wife Becky being the victims of a one-car accident on July 4, 2005.
Mom and Dad had us first three children before Grandma gave birth to Dan, so he was more like a cousin than an uncle.
In a recent article, I wrote about Dad's sister, and only surviving sibling, D'Arleen Waymire. She turned 90 on May 15 and is residing at the Village Green.
His other two brothers, Harry and Jim, passed away in 2017, the year after Dad; Jim, the fourth child, in March, and Harry, the second child, in October. It was sad losing all of them and in that close order.
So, I would have to say my cousins are also missing the patriarchs of their families. In addition to Dad's four children, Harry had five children; D'Arleen, three; Jim, three; and Dan, three.
I think we were all fortunate to have these men as our fathers.
I would be amiss if I left out Grandpa Moody. I am hearing he was ornery and quite the jokester, both at work and at home.
I've heard some of these stories after their passings. It's a good thing we didn't know at the time because we would probably have changed our thoughts on them being perfect, but that never happened.
I know Dad was a father figure for my son, Jamie, most of his life, and even helped out when sister Bev's husband, Tom, died in 1980, with their three young children. I couldn't think of a better person to have filled those shoes than our father.
I am proud to have been born to the Moody-Riffell family.
We really are good people (most of the time) if I do say so myself.
Father's Day in the United States is on the third Sunday of June, celebrating the contribution that fathers and father figures make for their children's lives.
One source noted, "Father's Day is a relatively modern holiday so different families have a range of traditions. These can range from a simple phone call or greetings card to large parties honoring all of the 'father' figures in a particular extended family."
Father figures can include fathers, stepfathers, fathers-in-law, grandfathers and great-grandfathers and even other male relatives.
"A woman called Sonora Smart Dodd was an influential figure in the establishment of Father's Day," the story read. "Her father raised six children by himself after the death of their mother. This was uncommon at that time, as many widowers placed their children in the care of others or quickly married again. Sonora felt that her father deserved recognition for what he had done. The first time Father's Day was held in June was in 1910. Father's Day was officially recognized as a holiday in 1972 by President Nixon."
Once again, Happy Father's Day!
******
Jamie and I extend our condolences to the families and friends of Kirby Lyons, Mike Kell, Charlotte Fletcher, Ruthanna Rogers, Larry Nolan, Stevana Ray Collette and Ruby Monnier.
******
Please pray for these people: Jamie Knick, Vanna Hannam, Jenny Pitman, Melinda (Batten) Stacy, Michelle Young, Tommy Farmer, Margaret Hoening, Manual Macias, Kathy McNutt Dapore, Lester Beisner, Delores Beisner, Kermit Foureman, Chuck "C.W." Cruze, Mark Lovejoy, Connie Buemi Hodson, Michelle Grottle Wright, Cheryl Slonaker Gilmore, Judy York, Donald Booker, Dennis Leeper, Connie Stachler, Randy Heck, Ronnie Norton, Marie Schlechty, Jeremy "Jerm" Burke, Bev Brumbaugh, Gary Eichler, David Pretzman, Clinton Randall, Abby Heck, Linda Lore, Ralph Byrd, Beverly McCabe Baker, Doug Winger, Rusty Maloy, Debbie Mayse, Sonja and Dan Coppess, Jeanie Francis, Mary Moran, Harvey Hinshaw, Bruce Kaiser, Nikole Baldridge, Amanda Mote, Tom Moody, Gary Francis, Anthony and Theresa Grillot, Lee Everhart, Paul Gigandet, Doug Whittington, Tracy Pratt, Kinley Bernard, D'Arleen Waymire, Tish Hodson Shepherd, Zach Urbancic.
Also, Sharon Gamster, John Rimmer, Joan Keen, Carol Hemmerich, Sharon Hummel, Dave Hinshaw, Larry P. Fitzwater, Jim Thomas, Neal Gray, Michael Mowery, Kenny Edwards, Judie Hathaway, Della Burch, Ned and Brenda Wallace, Rick Marker, Randy Garrison, Steve Waymire, Warren Menchhofer, Jannie Barrow, Kathy Gragorace, Danny Foster, Noella Combs, Clay Sheffer, Becky Everhart, Marie Rieman, Becky Oliver, Jayden Martin, Stefani Priest, Steve Neff, James Enicks, Joann Freeman, Cathy Collins Peters, Donna Bixler, Linda Subler, Roger McEowen, Sally Burnett Ganger, Gloria Hodge, Jeff Baltes, Judy Hoffman and daughter Shelly, Cathy Melling, Scott Clark, and all of those who are suffering from other life-altering illnesses.
******
Happy birthday:
June 15 to Debbie Cline Lee, Janet Helmer, Larry Yohey, April Billenstein, Pam Widener, Charlie Dickey, Julia Yohey and Ryan Berry.
June 16 to Bob Klosterman, Marion Price, Greg Metzcar and Pete Fullenkamp.
June 17 to Jerica Thwaits Stafford, Rocky Harrison and Bill Gahret.
June 18 to Joyce Walters, Marcia Dakin, Kristin Doyle, Richard Gillette, Kim Merritt, Jackie Stonebraker, Harold Marker, Ted Adkins, Vi Gilbert, Hugh Linebaugh, Mike Rhoades, Ted Strait and Jennifer Knick.
June 19 to Enrrique Hernandez, Amy Walls, Tom Butts, Jennifer Billenstein, Larry Woodbury, Sam Wilker, Dawn Dohme and Allison Reed.
June 20 to Krista Fourman Unger, Becky Partin, Karen Brown, Todd Waymire and Dara Buchy.
June 21 to Troy Kammer, Cindy Mescher, MacKenzie Miller and Ron Mescher.
Happy anniversary to Bob and Debbie Guthrie and Rhonda and Pat Williams, all on June 15; Cyril and Deb Hiestand, Kathy and Bob Wagner, and Terry and Tammy Curtis, all on June 16; and David and Ashley (Moody) Gilpin, Waldo and Helen Jenkinson and Daniel and Heidi Linebaugh, all on June 21.
******
Think about it: "The strongest, toughest men all have compassion. They're not heartless and cold. You have to be man enough to have compassion — to care about people and about your children." — Denzel Washington