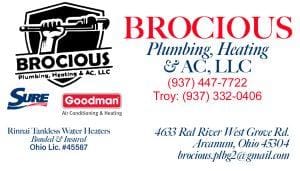 The headlines say it all. In our minds, the Cincinnati Reds are still number one, especially in this Moody household.
Despite the fact that they will not make it to the World Series this year, we are still their fans.
Personally, son Jamie's and my favorite players match: Johnathan India, first, and Elly De La Cruz, second.
However, we are proud of them all.
Here is what I wrote on Facebook after Saturday night's game.
"The Reds have nothing to be ashamed of in my book in their loss tonight for the Wild Card. The whole team kept son Jamie and me watching the game as much as we did this year.
"I missed most of tonight's game because of another commitment, but feel so fortunate I got to watch the game Friday night when they scored 19 runs against the Cardinals' two.
"In my opinion, they were World Series material this year. It's sad, but they're not to blame. We still love them.
"Jamie said it best when he remarked, 'Who would have ever thought they even had a shot at the beginning of this year? It's more of a moral victory for them. The fans that were in the stands at most of the games at home were a bonus too.'
"I myself can't wait until next year to see what they have to offer us with their special talents.
"We have to get over the loss just as they do, but I want to make them know we are so proud of them.
"The whole team is in our thoughts in this loss but should know that they kept us on our toes this season …and in a positive way.
"We are looking forward to 2024 for the Reds to entertain us once again.
"Thanks, Reds, for the memories!"
My heart broke when I saw India speaking at the end of the game. I've never seen him without a smile, but in that interview, he looked like he could break down, but he didn't.
I learned, with some research, that this is what India was saying during his interview:
"There's a lot of emotions, you know. It really kills me. I really don't know what to say. It's just a special, special team. Special season. I don't know. It's just very tough. And it's bringing me to tears just because of how much I love this team, how much I love this city. … It just kills me. … We came up short, and it hurts."
That says it all. See why we like him and his teammates and their talents on the field?
******
Jamie and I extend our condolences to the families and friends of Marianne Hawkey, Michael D. Stump, David Ernst, Norma Keiser, and Kirby Goff.
******  
Please pray for these people: Kara Didier, Pam Norman-Penticuff, Roger McEowen, Michelle Coppess Hiestand, Katie Young, Mike Mayse, Greg Moody, Kelly Jo Eikenberry (kidney transplant) and son Allen (donor), Larry Linder, Steve Waymire, Allison "Ally" Miller, Grace Boyd, Jason Stover Jr., Jeff Brocious, Jamie Knick, Dan Lockhart, Jenny Pitman, Nikole Baldridge, Chester Bryant, Melinda (Batten) Stacy, Michelle Young,  Margaret Hoening, Manual Macias, Kathy McNutt Dapore, Lester Beisner, Delores Beisner, Kermit Foureman, Chuck "C.W." Cruze, Mark Lovejoy, Connie Buemi Hodson, Michelle Grottle Wright, Judy York, Donald Booker, Dennis Leeper, Connie Stachler, Randy Heck, Ronnie Norton, Marie Schlechty, Jeremy "Jerm" Burke,  Gary Eichler, David Pretzman, Clinton Randall, Ralph Byrd, Doug Winger, Rusty Maloy, Debbie Mayse, Sonja and Dan Coppess, Jeanie Francis, Harvey Hinshaw, Bruce Kaiser, Amanda Mote, Gary Francis, Anthony and Theresa Grillot, Lee Everhart, Paul Gigandet, Doug Whittington, Tracy Pratt, D'Arleen Waymire, Zach Urbancic.
Also, John Rimmer, Joan Keen, Carol Hemmerich, Dave Hinshaw, Larry P. Fitzwater, Jim Thomas, Neal Gray, Michael Mowery, Kenny Edwards, Judie Hathaway,  Ned and Brenda Wallace, Rick Marker, Randy Garrison, Jannie Barrow, Kathy Gragorace, Danny Foster, Becky Everhart, Becky Oliver, Steve Neff, James Enicks,  Cathy Collins Peters, Donna Bixler, Linda Subler, Sally Burnett Ganger, Gloria Hodge, Jeff Baltes,  Cathy Melling, Scott Clark, and all of those who are suffering from other life-altering illnesses.
******
Happy birthday:  
Oct. 3 to Rileigh Norton, Shirley Riffell Morrow, Cheryl Fraley, Ron Turner, Derek Ketring, Karen Duncan, Jody Mincer-Mangen, Kim Cromwell and Lori Resor Lloyd.
Oct. 4 to Alyson Waymire, Jill Riegle Gelhaus, Daniel Fitzgerald, Linda Hawkey, Lucinda Ledbettter, Laura Jones and Amy Grogean.  
Oct. 5 to Tony Schultz, Jamie Spencer, Timm Bang, Josh Spradling, Mike Rammel, Larry Reed and Curt Garrison.
Oct. 6 to Dean Butts, Jennifer Earick, Brad Davis, Edna Stover McCoy, and Maxine Didier.
Oct. 7 to Steve Hilderbrand, Janet Francis, Chrissy Brim, Barbara Anderson, Connie Yohey Shiverdecker, Steve Miller, Tracy Tryon, Randy Mestemaker, Susie Francis, Ron Price and Becky Campbell.
Oct. 8 to Breanne Norton Bucholtz, Karen Stubbs, Tony Liette, Shawn Hiestand, Kayla O'Dell, Tyeis Baker-Baumann, Kristin Fee, Marla Moore and Tammy Stock.
Oct. 9 to Linda Wood, Henry Reichert, Kathy Welch, Bob Guthrie, Austin Ward,
Gayle Rismiller and Kim Peters.
 
Happy anniversary to Steve and Barb Young on Oct. 3; Ivan and Patricia Steionke and Jay and Dee Dee Stammen, all on Oct. 4; and Greg and Leanna Whittington on Oct. 8.
******
Think about it: "Creativity is allowing yourself to make mistakes. Art is knowing which of these mistakes to keep ." — Author Unknown