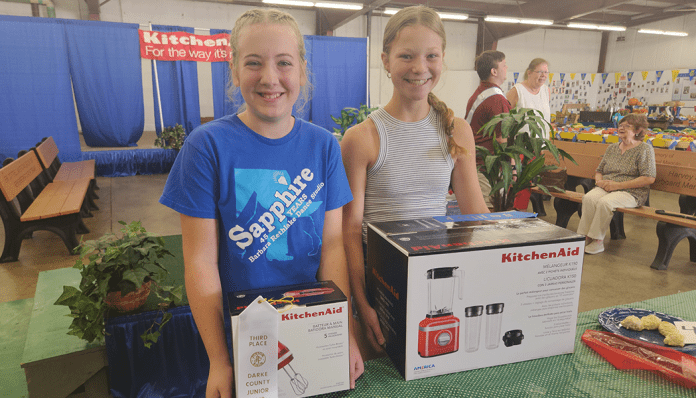 Saturday morning, the Jr Fair hosted the intermediate Bake-A-Rama contest. This year the intermediate division bakers made biscuits
Six contestants had 20 minutes to prepare and then 30 minutes to bake.
The judges, Susan Sayers and Beverly Presall, scored them based on six different categories. These categories were measuring food, preparation of food, clean up, posture and poise, reaction to questions, and quality of the finished product.
In the measuring food category, they were judged on the correct use of measuring utensils, measuring accordingly, and uses of proper techniques.
The preparation of the food category included correct mixing procedures and the correct consistency of the batter.
The clean-up category included space cleanliness, being neat, orderly, and getting cleaned up quickly.
The posture and poise category was based on the contestants having a new appearance and self-confidence.
The reaction to the questions category was based on their ability to stay calm and comfortable while the judges asked them questions.
Finally, the quality of their finished biscuits was based on consistency, flavor, appearance, and presentation.
"These girls all did a very nice job," one of the judges said. "It came down to little things like measuring with a straight edge instead of a dinner knife."
Coming in third-place, receiving a Kitchenaid hand mixer, was Dessie Wolf.
Receiving second-place, receiving a Kitchenaid Toaster, was Madison Alexander.
And the first-place winner, receiving a Kitchenaid Personal Blender, was Lexie Timmerman.
Congratulations to Lexie Timmerman and all those who participated!
The next Bake-A-Rama will be the Juniors division on Tuesday, August 22, at 9 am in the youth building.
The Senior division of the Bake-A-Rama will be on Wednesday, August 23, at 8:30 am in the youth building, followed by the advisors' division at 10:30 am.