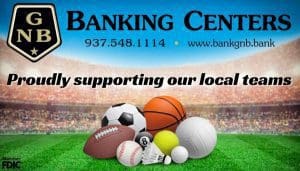 FAIRBORN – The Greenville Lady Wave easily defeated the Fairborn Lady Skyhawks 46-6 in Wednesday night MVL varsity basketball action with eight Lady Wave getting in the scoring column.
"Great team win," said Greenville coach, Rachael Kerns. "Our focus was fantastic from start to finish, especially on the defensive end."
Greenville jumped out to a 12-0 lead after one period of play with Skylar Fletcher and Megan Lind each hitting two baskets and a free throw and Gracie Thacker knocking down a bucket to pace the Lady Wave.
Period No. 2 went to Greenville by a 14-4 score with Fletcher adding 6-points to the board, freshman Sara Loudy with 4-points including 2-2 at the charity stripe and a basket each from Lind and Minaxi Pandey sending the teams to the break with the Lady Wave holding a 26-4 lead.
Greenville held the home team scoreless in the third while putting 14-points in the scoring column with Fletcher scoring 5-points, Josie Camacho drilling a 3-pointer and Thacker, Pandey and Lind each with a basket.
The final period took advantage of a running clock with Greenville taking the quarter 4-2 to earn a 39-point Miami Valley League win.
"All 12 players dressed and able to play – and the bench saw good minutes," Kerns noted, "We had eight different girls score."
.Fletcher led Greenville and all scorers with a game high 16-points.
Greenville improves to 5-9 overall and 4-7 in conference play.
BOXSCORE:
GREENVILLE 46, FAIRBORN 6
GREENVILLE – S. Fletcher 16, M. Lind 9, G. Thatcher 4, S. Loudy 4, M. Pandey 4, M. Hutchins 4, J. Camacho 3, C. Davidson 2 – TOTALS 18 7-14 2 46
FAIRBORN – A. Williams 4, C. Lewis 2 – TOTALS 3 0-0 0 6 6
3-POINTERS
Greenville 1 (J. Camacho 1)
Fairborn 0
SCORE by QUARTERS
12-14-14-04 44 Greenville
00-04-00-02 06 Fairborn