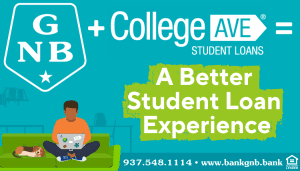 GREENVILLE – The Lady Wave hosted Bellefontaine, Brookville and Mississinawa Valley in a three hour Monday night preseason scrimmage in preparation for the OHSAA 2023 volleyball season.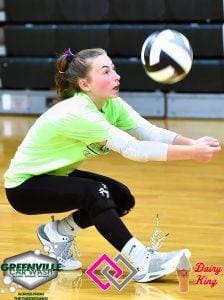 "We started out slow but they finished very well," said Greenville coach, Michelle Hardesty. "Shyanne (Gibboney) served 11 points in a row. She was very hot with her serves and she is doing well passing as well. That was nice to see. I look for maybe a few records to be broken this year."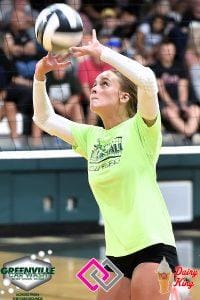 The Lady Wave opened the 2023 scrimmage season on a high note before falling off a little in the team's second scrimmage.
"We had some injuries in there, the girls are back and playing well," Coach Hardesty stated. "We are messing with our lineups –  that is what preseason is about, giving everybody an opportunity to showcase their talents and try to figure out something consistent going into next week."
"We looked really well the first scrimmage," said Lady Wave assistant coach, Jim Hardesty. "We didn't play real well the second scrimmage but we bounced back against some really nice teams today. The second time through we were in control most of the time. We started putting some of the younger ones in there and they bring a little bit of energy to the show."
Coach Michelle Hardest was pleased with the team's performance and ability to get stronger as the night wore on.
"We got better," she said. "We have to be able to start out strong. It seems like we're getting stronger as our day goes on. In matches you're not going to be going for three hours so they are going to have to figure that out."