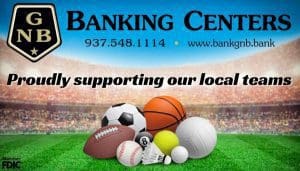 BRADFORD – The Mississinawa Valley Lady Blackhawks defeated the Bradford Lady Railroaders 56-13 in Thursday night WOAC action.
"We knew we were playing a team that is struggling right now but they were a physical team and we knew that going in," said Mississinawa Valley coach, Michael Paige. "Bradford showed a lot of hustle tonight."
"Proud of the effort in today's game," Bradford coach, Josh Siedling. "They work hard and as a coach that is all you can ask for, players that want to work hard and get better."
The Lady Hawks took an early 10-0 lead at the 5:08 mark in the first on its way to a 20-4 lead after one complete.
Quarter No. 2 was a defensive battle with the Lady Hawks taking the period 7-5 sending the teams to halftime with MV holding a 27-9 advantage.
Mississinawa Valley battled back at both ends of the third quarter court to put 23-point on the board while holding the home team scoreless for a 50-9 score after three quarters of action while keeping a running clock in play.
The Lady Hawks took the fourth quarter 6-4 giving the team its 13th win of the season.
"Right now we're trying to hang our hat on the defensive end while our offense can get going," said Coach Siedling. "Proud of our effort tonight."
Lady Hawks' sophomore, Taylee Woodbury is the third leading scorer in the WOAC but has struggle recently to score … but Coach Paige is not concerned.
"Taylee is a slump right now but she'll get out of it, she's a great player," Coach Paige stated. "The good thing is, anytime Taylee is struggling with points her assists go up so that's one of the good things for us.
Woodbury leads the WOAC with 6.2 assists a game and is second in the conference in steals with 4.7 per game.
"She is leading the conference in assists so when her shot's not falling it's also allowing other people to score," said Paige. "Tonight Brenna (Price) led us with 19-points, Jocelyn (Hoggatt) led us against Arcanum with 18-points. We have other people that are stepping up and starting to score for us which is making us a more complete team overall."
"The benefit of Taylee struggling that is what's showing us we know we can get 18-19 points from Jocelyn, we know we can get 18-19 points from Brenna (Price) and we know also Syenna (Purdin) can put up 20-points. Mackenzea (Townsend) had an 18-point game. All five of our starters have had games where they have scored at least 18-points so even if one person is struggling scoring, we have other people that can step up."
"When teams do prepare for us they're going to have to prepare for more than just Taylee," Paige added. "Her struggling the last four or five games shows everybody that we can still score even without her points. She can still play defense, she can still bring the ball up court, she can still facilitate – that's why she's a point guard."
Brenna Price led the Lady Blackhawks and all scorers with a game high 19-points.
With the win Mississinawa Valley improves to 13-2 overall and 7-1 in WOAC play.
BOXSCORE:
MISSISSINAWA VALLEY 56, BRADFORD 13
MISSISSINAWA VALLEY – B. Price 19, S. Purdin 11, T. Woodbury 7, I. Ojeda 6, B. Scubert 6, M. Townsend 4, J. Hoggatt 3 – TOTALS 18 8-16 4 56
BRADFORD – Hamilton 9, Swick 2 – TOTALS 4 2-3 1 13
3-POINTERS
Mississinawa Valley 4 (S. Purdin 3, J. Hoggatt 1)
Bradford 1 (Hamilton)
SCORE by QUARTERS
20-07-23-06 56 Mississinawa Valley
04-05-00-04 13 Bradford