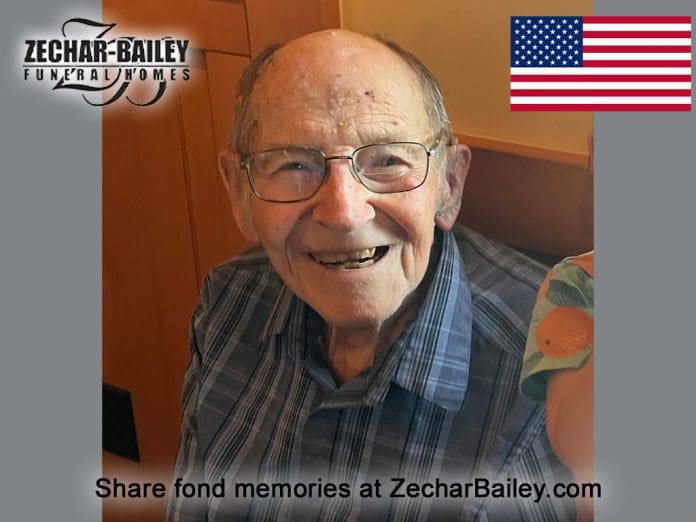 Kenneth W. "Jack" Midlam, age 101, of Arcanum, passed away Thursday, November 2, 2023, at 12:53 pm at his residence.
Kenneth was born August 11, 1922, in Darke County to the late Leslie & Minnie (Ulmer) Midlam. In his death, Kenneth was reunited with his beloved wife of 64 years, Hazel (Patrick) Midlam, who preceded him in death on October 2, 2010. Kenneth was also preceded in death by their infant twin sons, Jerry & Larry Midlam; son, Scott Mildam; daughter, Kenneta Lockwood; sisters, Marguerite Reese, Gladys Earhart, Marie House, Nellie Hicks, and Irene Midlam; and brother, Lavern Midlam.
Kenneth is survived by his grandchildren, Alydra (Karel) Kelly Konopik, Nick Klein, and Ryan (Krissy) Midlam; great-grandchildren, Jorden Midlam, Luke Midlam, Kai Konopik, and Vanessa Stewart; great-great-grandchildren, Iris Midlam, Cayden & Axel; and numerous nieces and nephews. All of whom will miss him greatly.
Kenneth served in the U.S. Army during WWII and later retired from NCR in Dayton with 32 years of service. He was a member of Trinity Methodist Church in Arcanum, where in his younger years, he served as a deacon and Sunday school teacher, and was also a former member of the First Congregational Christian Church in Greenville. In addition to his church service, Kenneth served as PTA President at his children's school, as a Hospice Volunteer for 21 years, and was a proud member of the Darke County Democratic Party. He and his wife enjoyed many years of card club and dining with close friends. Kenneth was also an avid bowler and golfer and continued golfing well into his 90's. But, with all that he did, he most enjoyed spending time with his wife and family and created many wonderful memories for them that they will forever cherish. 
Kenneth was a true family man who took pride in setting a good example for his family and who believed in serving his country, community, church, and family. He lived as an example of both a good Christian and as a good man. He will be fondly remembered by all who met him and many who never had the opportunity- "Say not in grief 'he is no more' but in thankfulness that he was."
A celebration of Kenneth's life will be held at 2:00 pm Saturday, May 4, 2024, at Zechar Bailey Funeral Home in Greenville. Burial will follow in Teegarden Cemetery near Ansonia with full military honors conducted by the Greenville veteran's Honor Guard. The family will receive friends on Saturday, May 4, 2024, from 12:00 to 2:00 pm at the funeral home. Memorial contributions may be made to EverHeart Hospice or the Veteran's Memorial Museum in Germantown.
Fond memories and expressions of sympathy may be shared at www.zecharbailey.com for the Midlam family. The family will also use this as a means to provide future information regarding Kenneth's memorial service and burial and ask anyone wanting this information also leave a memory or message on the site.