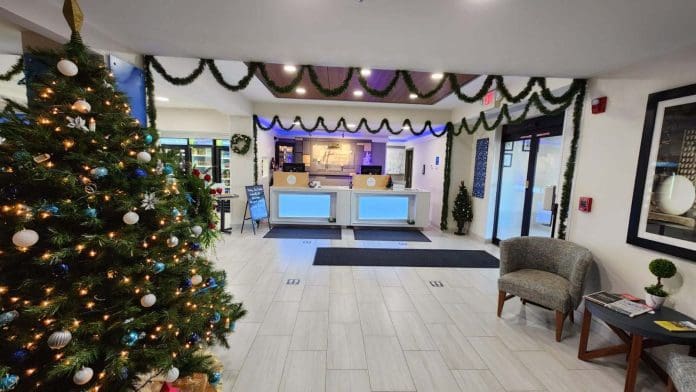 GREENVILLE— Just beside its fully-stocked bar, Holiday Inn Express offers the public a market full of different foods and drinks, as well as a cafe-style lobby.
The spacious lobby has seating in multiple different areas, which allows the public to use the space for free for meetings of any kind, like book clubs or job interviews.
Additionally, there's a refrigerator available stocked with various beverages and a freezer full of different foods.
The Holiday Inn Express held a grand reopening in May 2022 to celebrate a complete renovation that took place over the past two years.
The Holiday Inn Express offers guests four different rooms to choose from: standard king, standard king mobility access, standard double queen and a standard double queen mobility access.
Additional amenities guests can enjoy other than beverages, include an indoor heated pool, continental breakfast, fitness center, cable TV and wireless internet.
Sam Patel and his wife Komal have been in the hotel business for nearly 20 years. They partnered with Rangam Rami, of Greenville, a former employee at their Best Western Classic, and his wife Usha Rami, on Greenville's Holiday Inn Express. Rangam manages the hotel, and has seven years experience in the business.
The Holiday Inn Express is located at 1195 Russ Rd, Greenville, Ohio, 45331. For more information, please call the hotel at 937-548-1328.