GREENVILLE—Greenville High School held their end-of-the-year senior awards assembly on Friday afternoon.
Awards presented during the assembly include the Jason Barker Spirit Award, Jack Raudabaugh Award and the Paul C. Warner Senior Leadership Award.
Kenna Jenkinson and Caden Lecklider were awarded the Jack Raudabaugh Award.
The award was established in recognition of Jack Raudabaugh, a successful teacher, coach and principal in the Greenville Schools from 1937-1973. Raudabaugh served in World War II from 1943 to 1945.
Recipients must have lettered in two sports, be in the upper third of the senior class, be of good moral character, be willing to make needed sacrifices in order to be a god athlete, be someone other team members can look up to and be a leader, not only in athletics, but other school activities as well.
The Jason Barker Spirit Award was awarded to Noah Stevens.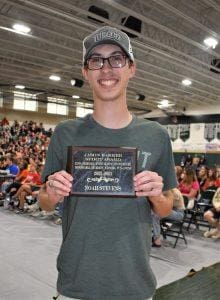 The award was established in honor of, the at the time Greenville sophomore year Jason Barker. Who, just before his sophomore year, was tragically killed when he was struck by a car while riding his bicycle.
A small group of GHS faculty, alumni, and other supporters, decided to create the annual Jason Barker Spirit Award in his memory.
Yearly recipients of the award would possess many of the same fine qualities that were observed in Jason (kind, friendly, enthusiastic, encouraging, dependable, reverent, winsome and fun-loving). A plaque bearing Jason's freshman photo and the names of each recipient, hangs in the hallway near the GHS cafeteria, where Jason would often seek out students eating lunch alone, and sit down with them for a chat.
Lastly, the Paul C. Warner Leadership Award was presented to Ella Strawn.
To honor an outstanding Senior student leader, the award is named for the longest serving Principal in GHS history, Mr. Paul C. Warner, GHS 1914, who was our school's leader for 25 years, from 1929 to 1954.
He had been Class President in 1914 and taught Agriculture and Science from 1919 to 1929, before becoming Principal. He was one of the most respected figures in the history of Greenville High School. Dr. Alex Warner '67 is the grandson of Paul Warner, and was a teacher and coach at GHS and served many years on the Board of Education.
The Award is presented to a student who exemplifies outstanding leadership qualities in class, in extra-curricular activities, and in the community, for being an outstanding role model for other students, and for earning the respect of the GHS Staff.
The second longest serving GHS Principal was Mr. Coney Cornett (12 years, from 1959 to 1971), with no other Principal ever serving more than 10 years. This covers the years from 1888 to the present.
Congrats to all recipients!