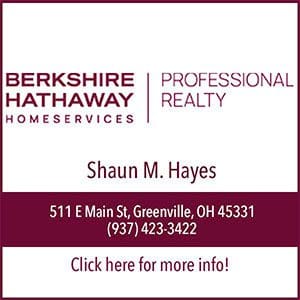 August 31, 9:26 am P.O. Trenton Spradley responded to South Ohio St. in reference to an unresponsive female subject. Spradley arrived at the scene with Greenville Rescue and Darke County Coroner's Investigator Joseph VanVickle. The female subject was pronounced deceased and released to Zechar Bailey Funeral Home.
September 11, 10:55 pm. P.O. J. E. Marion was on patrol in the Walmart parking lot when Marion observed a vehicle known to be driven by Erik Drzeqiecki and his girlfriend, Rachel Scott. Marion had prior information that both subjects had arrest warrants from Miami County. Both were arrested, and their warrants were confirmed by Miami County Sheriff's Office.
September 14, 12:45 pm. P.O. Trenton Spradley responded to Kitchenaid Way Whirlpool in reference to a private property vehicle accident. Upon my arrival, I made contact with the complainant, Bryseyda Banda. Bryseyda stated she was attempting to pull into a parking space and accidentally struck a parked company vehicle. Spradley observed damage on the front passenger side bumper of Bryseyda's vehicle and damage on the back driver's side bumper of the parked company vehicle.
September 15, 6:18 pm P.O. Ben Conley responded to Wagner Ave, Belle Fiole Tanning, in reference to a theft. Upon arrival, Conley made contact with employees Alaina Blackburn and Nathan Bowen, who stated that Jessica Jillson came into the store, came in and out of the store several times without speaking to them, then came back inside and went back to room 10, which she rented to tan. Alaina noticed the company iPad was missing from the front desk, so she called her mother, Jenny Blackburn, who owns the store. Jenny was able to ping the iPad, and when she did, they could hear a loud pinging sound coming from inside the room Jessica was in. Jessica denied having the iPad, and when she left, the iPad could not be located. Conley responded to East Russ Road to speak to Jessica and asked if he could look around. Conley found an iPad that had a matching serial number from the stolen one. Jessica was then read her Miranda Warning, arrested, and transported to the Darke County Jail.
September 16, 1:03 am. P.O. Alan Smith was dispatched to Speedway North, Wagner Ave., in reference to found property.  Upon arrival, Smith spoke with the employee on duty, Jordan Cross. Jordan advised he was looking around the store when he noticed a small clear bag containing a white crystal substance on a shelf near the beer cave. Jordan believed the white substance was crystal meth and contacted the Greenville PD to take possession of the substance. Jordan was asked if he knew who had left it, but he did not. Jordan advised there are cameras, but they do not face the aisle where the bad was located. There are no suspects at this time.
September 19, 2:51 am. Patrol Officer Eric Kiryluk was dispatched to Surrey Lane in reference to a prowler complaint. While investigating the prowler complaint, I found a known subject was in violation of a Temporary Protection Order; thus, the known subject was arrested and issued a citation for the violation.
September 19, 8:30 am. P.O. Aaron Hall was dispatched to Martin St. Family Dollar in reference to a theft complaint. Upon arrival, Hall made contact with manager Elizabeth Baumgardner, who advised that her employee Kathryn Lovejoy was scammed out of $995.18 the previous night, September 18. Baumgardner advised that two unidentified customers came into the store and loaded $500 on an Apple gift card and $490 on a pay-as-you-go gift card. One of the customers distracted Lovejoy by asking about Cigarillos behind the counter; when Lovejoy's back was turned, the other customer reached across the counter and hit the cash-out button. When Lovejoy turned back around, they told her they paid with a card. Baumgardner showed Hall the video from the store's camera. The case needs further investigation.
September 19, 1:10 pm. Sgt. Benjamin Boyer was dispatched to the Darke County Courthouse in reference to a found wallet. The owner of the wallet was found to be Gale Rosser. Gale no longer lives at the listed address, and Boyer was unable to locate a current address or phone number for Gale. The wallet and contents were packaged and placed into GPD property.
September 19, 3:43 pm. Sgt. Mitch Raffel was dispatched to Wagner Ave in reference to a person with a warrant. Upon arrival, Raffel located Justin Crabtree and told him about his warrant out of Montgomery County. Justin was arrested.
September 21, 12:52 pm. P.O. Matthew Ganiron was dispatched to Gardenwood Drive in reference to a wanted person. Upon arrival, Ganiron made contact with Monique Phlipot and advised her of her warrant. Monique was placed under arrest and transported to the Darke County Jail.