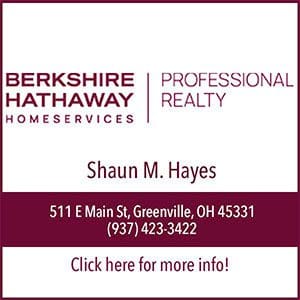 August 28, 1:04 pm. P.O. Ben Conley made contact with complainant Amy Hauser who stated she found someone had written "Cum Slut, The Dick Dumpster" in white washable paint on the back of her vehicle. Hauser stated she did not see anyone do this to her vehicle but believed that it may have been Brent Henninger. Hauser stated that she and Henninger used to be in a dating relationship but have recently gone through a bad breakup. Hauser was able to wash the writing off. She filled out a written statement and a victim's rights form in reference to this incident.
August 30, 3:39 pm. P.O. Trenton Spradley responded to Russ Road in reference to a private property accident. Matthew Bierly stated he was driving his car in the parking lot when his vehicle was struck by another vehicle. Debra Kauffman stated she was driving her vehicle when she got distracted and struck Bierly's vehicle. Bierly's vehicle had damage on the driver's side rear, and Kauffman's vehicle had damage on the front passenger side. Both Kauffman and Bierly stated they had insurance.
August 30, 4:00 pm. P.O. Aaron Hall was dispatched to E Water St. in reference to vandalism to a barn. Victim Melody Swartz advised that someone had hit her barn, possibly with a car, and happened sometime between 4:30 pm on August 29 and 8 am on August 30. Hall observed the damage, and it appears someone had possibly backed out of the Darke County Recovery and Wellness parking lot and into the barm. Darke County Recovery and Wellness will review the cameras in their parking lot to see if they picked up the possible accident. The case needs further investigation.
August 30, 11:55 pm. Sgt. Monnin was patrolling the area of Martin Street near Green Street. While looking for an unrelated male subject in reference to a separate incident, Monnin located another male subject he knew to be Steven Karnehm, who Monnin knew was being looked for by the Versailles Police Department. Steven was detained and transported to the Greenville Police Department to wait for the Versailles Officer. The officer from Versailles served his citation, and Karnehm was also served citations for having no lights on his bicycle at night and obstructing official business.
August 31, 11:09 am. P.O. Trenton Spradley responded to Sweitzer St. Wayne Hospital in reference to a drug complaint. Hospital Security advised that hospital staff located three used syringes and a metal spoon in a hospital restroom that is used by patients and visitors. Security stated they believed the items belonged to Shalonda Clark. After Clark consented to a search, Spradley found five used syringes, two plastic bags containing white powdery substances, a white plastic bag containing an unknown white substance, a plastic bag containing an unknown pink substance, and a glass pipe containing burnt residue. Clark stated each of the substances are fentanyl, and she currently uses illegal drugs but denied using them at the hospital or in the bathroom. The Substances and paraphernalia were seized, and Clark was trespassed from Wayne Hospital. The unknown substances will be sent to the BCI laboratory for analysis, and charges are pending the results.
September 1, 5:09 pm. P.O. Matthew Ganiron was dispatched to Birt Street in reference to a missing person complaint. Complainant Logan Gorrell stated he hadn't seen his girlfriend/involved person Meredith Wolfe since August 20 at approximately 11 am. Two letters were found by Gorrell on August 23 and August 26 that were from Wolfe, who stated she had lost her phone or her phone was stolen. On September 2 at approximately 9:30 am, Ganiron spoke with Wolfe's father, who stated her location had actually been Hickory Drive, as well as the surrounding area. Her father stated that her phone seemed to be off because it was going straight to voicemail instead of ringing. Due to Wolfe being 26 years old and there being no evidence that she is in any physical harm, she does not meet the requirements of being entered as a missing person at this time. A BOLO was issued for Wolfe to stop and check for her welfare.
September 2, 7:20 pm. Sgt. Monnin was approached by an anonymous subject who advised they found a social security card belonging to Rory Wampler. The card was taken to the Greenville Police Department and placed into property for safekeeping. Monnin attempted to make contact with Rory via tx but was unable to leave a voicemail.
September 3, 12:10 am. P.O. Alan Smith was dispatched to E Russ Rd Sloopy's in reference to a trespassing complaint. The offender was found to have been warned for trespass by another officer earlier in the evening and subsequently cited for criminal trespass since he returned to the business.
September 4, 1:18 pm. P.O. Archer was dispatched to Hart Ave. in reference to a report of found property, a black and green tri-fold wallet belonging to Joseph McCreery. Contact with McCreery was made, and the wallet was returned to him.
September 4, 10:05 am. P.O. Matthew Ganiron was dispatched to Lease Ave. Kroger in reference to a private property accident. Lyndsay Anthony stated she had stuck a vehicle belonging to Manya Noonan as she was exiting a parking spot. Anthony started to exit the parking space turning towards the east, and Anthony's passenger side struck the front left driver's side of Noonan's car, causing damage to both vehicles. Both parties exchanged insurance information and were given the incident number for this report. At this time, there is no further follow-up necessary.
September 6, 7:26 pm, P.O. Kreitzer was dispatched to Wagner Ave. in reference to a welfare check. Kreitzer made contact with Venessa Ferguson, who was in the driver's seat of her vehicle. After observing Ferguson being slow to answer questions, slurring her words, and her eyes being glossy, Kreitzer asked if she had taken any medications. Ferguson stated she took three of her nerve medications Gabapentin. Kreitzer asked Ferguson to exit the vehicle and noticed the smell of alcohol and a beer can in the car. After refusing a sobriety test, Ferguson was placed in handcuffs, placed in the back seat of the cruiser, and advised of her Miranda Rights. Sgt. Monnin arrived on the scene and was advised of Kreitzer's findings. Ferguson admitted to Monnin that she had four beers and that she refused the sobriety test because she had too much to drink. Ferguson was taken to the Greenville Police Department Patrol Operations Room. She was issued a copy of her citation, advised of her court date, and released to her son.
September 8, 8:21 am. P.O. Trenton Spradley responded to Sweitzer St. Wayne Cancer Center in reference to a private property accident. A large section of the cement wall of the building was damaged. The complainant advised that they believed it was Richard Sweat and that they wanted him checked on and his information for a report with no charges for leaving the scene. Richard Sweat admitted to striking the building while traveling in reverse. He stated his foot slipped off the brake and onto the gas pedal.