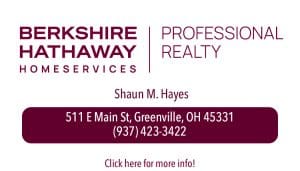 TRASH
May 27, 12:45 p.m.: Police responded to a trash complaint in the open field, wooded area behind the 100 block of North Broadway Greenville, Ohio. Upon arrival officers made contact with Ralph Bailey who was previously warned for trespass from the property on December 9, 2022. Police spoke with the property owner Lynn Hamilton who stated Ralph was not welcomed on the property. There is also posted signs saying no trespassing near the edge of the property near the parking lot across the street. Ralph has accumulated multiple items and trash on the property. The items being a 20ft radio antenna, clothes, blankets, food, wagons, and loose trash. Ralph stated that all of the items belonged to him. Officers asked Ralph what he was doing on the property, he said that he was living there and Police asked if these items were his again and he said, "yes." Ralph stated that he spoke with a female officer yesterday who informed him to have the trash removed. Police spoke with Lynn Hamilton over the phone who owns the open field/wooded area property at 120 North Broadway. Lynn stated that Ralph did not have permission to be on his property. Ralph was issued a citation for criminal trespass on the property, and issued another citation for the littering. Ralph was advised of his court date and time and given his copies. On June 1, 2023, Lynn Hamilton completed a witness statement and victim's rights form. Both forms will be added to this report.
SUICIDE THREAT
May 30, 3:10 p.m.: Upon arrival, Sgt. Boyer and officers made contact with Vickie Alexander. Staff advised that Vickie had been at Wayne Health Care earlier in the day for withdraw symptoms. Staff advised that Vickie came to Darke County Mental Health for assistance but when she found out they could not issue her medication, she stated that she would go home and harm herself. Staff advised that they were completing the paperwork for a Pink Slip (Emergency Admission Form). Police explained to Vickie the situation and she agreed to go to the hospital voluntarily.Vickie was then transported to Wayne Health Care by Greenville Rescue. Staff advised they would be contacting Wayne and forwarding them the paperwork.
PROPERTY
June 1, 7 p.m.: Police were dispatched to the Greenville Police Department in reference to found property. Upon arrival, officers were notified by dispatch that a black wallet containing an Ohio operators license, addressed to Malcolm Burton, was turned into dispatch by Noel Myers. Noel informed dispatched that she found the wallet in Walmart before bringing it to the Greenville Police Department. Contact was made with Malcolm who informed dispatch he would be in to retrieve the wallet between the hours of 2000 and 0000. Malcolm came to the GPD and the listed property was returned to him.
WARRANT
June 2, 5:04 a.m.: Officers arrived at the Towne House Motel to serve a misdemeanor warrant. They had prior knowledge that Kimisha Higgins was staying at the Towne House Motel, Prior to arrival, they had learned that that Higgins had an active misdemeanor warrant out for her arrest through the Miami County Sheriff's Office.  Upon arrival police knocked on the door to her room. Higgins answered the door and I asked her to step outside of the room. Police then informed Kimisha of the active warrant and she was placed into handcuffs which were gap checked and double locked. Kimisha was searched incident to arrest and no contraband was located. Dispatch ran Kimisha through LEADS/NCIC and confirmed that she has an active misdemeanor warrant out of the Miami County Sheriff's Office on an original charge of obstructing official business with a $574 bond. Miami County confirmed the active warrant. Officers then transported Kimisha to the Darke County Miami County line at 9990 US-36 Shell Gas Station. Kimisha was then released to Miami County Deputy Lavy. The backseat of the police cruiser was searched before and after transporting Kimisha and no contraband was located.