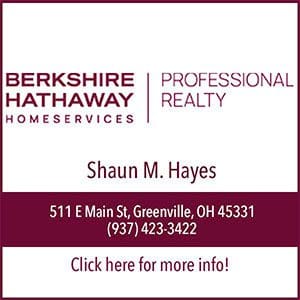 September 11, 11:09 am Sgt. Monnin made a traffic stop in reference to the driver possibly driving under suspension violation. Through investigation suspected controlled substance was located inside the vehicle. Three subjects were released from the scene, the substance found was taken to the GPD and placed into property, and the case will be sent to the Darke County Prosecutor's office pending lab results.
September 15, 3:55 am. Sgt. M Prickett was dispatched to Sweitzer Street in reference to an occupied suspicious vehicle. While talking to the subject, Shawn Grant, Prickett observed a glass device with white and brown residue on the inside in plain view on the dashboard near the windshield. Prickett knew this device to be used to inhale illegal narcotics and advised Grant to exit his vehicle so it could be searched. During the search, a small baggy of white crystal-like substance was located along with a lighter, a small baggy with white unknown substances, a baggy of green leafy vegetation, a metal case with two razor blades, and a small straw, what appeared, and smelled like a marijuana cigarette and a second glass smoking device without residue behind the driver's seat.  When asked, Grant stated the items belonged to a female named Rachel and denied owning all the items except the marijuana. Prickett advised Grant he was not going to be arrested, but the suspected narcotics would be sent to the lab to be tested. The case is pending lab results.
September 15, 10:52 pm. P.O. William Daugherty was dispatched to Harrison Avenue in reference to a trespassing complaint. Upon arrival, Daugherty met with complainant Sarah Fleming, who stated that approximately 5 minutes before she contacted GPD, Keith Mitchell came into her property, yelling and knocking on the back door connected to the garage. Sarah stated when opening the door, Keith had pushed her out of the way, entering the garage and refusing to leave. Keith had left the property prior to the officer's arrival. Keith was previously warned for trespass on 12:23/2020. Sarah completed a witness statement and a victim's rights form. On September 16, 10:08 pm. Daugherty made contact with Keith. Keith was issued a citation for criminal trespass and advised of his court date and time.
September 18, 2:07 pm. Sgt. Monnin observed a Gray 2003 Nissan Altima being operated eastbound on Martin Street near North Ohio Street. Through LEADS/NCIC, Monin confirmed the registration expired on 7/13/2022 and initiated a traffic stop. Driver Joshua Jenkinson advised that the vehicle belonged to the passenger's mother, who was deceased. The passenger advised since the registration was so old and there was no way to renew it, the vehicle would be towed. Joshua was issued a citation for operating the vehicle with expired plates.
September 22, 7:46 am. P.O. Alan Smith was dispatched to Greenville PD in reference to a theft. Upon arrival, Smith spoke with victim Phillip Nisonger who advised on September 21 he dropped his wallet while shopping inside Speedway. When he noticed his wallet was missing, he canceled his debit card.  After it was canceled, Phillip received a bank statement on his phone indicating someone had tried to use the card. Smith contacted Speedway and asked to see video footage of this incident. They advised Smith would have to come back on September 27 to review video footage. No suspects at this time, will follow up on this incident on September 27.
September 22, 9:14 am. P.O. Matthew Ganiron was dispatched to South Ohio Street, Nutrien Ag Solution, in reference to a private property accident. Upon arrival, Ganiron spoke to complainant/driver Kelly Boystel, who stated when attempting to leave the gravel private lot he stuck a fire hydrant that was located in the gravel lot where he was parked.
September 24, 5:13 pm. P.O. J. E. Marion was dispatched to W. Main St. on a drug paraphernalia complaint. Marion spoke with complainant Don Monnier, who stated a man approached him in the backyard who said he was from Cheetum County, TN, and handed him a trailer hitch, saying a woman gave it to drop off to Monnier. The man left it in the yard and drove away. When Monnier looked in the trailer hitch and saw a latex glove and pulled it out, inside the glove was a baggy containing suspected methamphetamine. Marion seized the meth and latex glove and took it to GPD. The meth and glove were packaged and secured in the property room.
September 28, 8 am. Det. Joseph Wolfe responded to Russ Road to assist in a welfare check. K9 gave a positive alert to the presence of the odor of illegal narcotics in the subjects' vehicle. Wolfe searched the vehicle and located an uncapped used hypodermic needle on the driver seat floorboard. While continuing his search, he located multipole used hypodermic needles, a plastic baggie containing an unknown crystal-like substance that had the appearance of methamphetamine, and another baggie containing an unknown purple substance that had the appearance of fentanyl. Nathan Sharp and Candice Maloney were arrested and transported to the Darke County Jail.