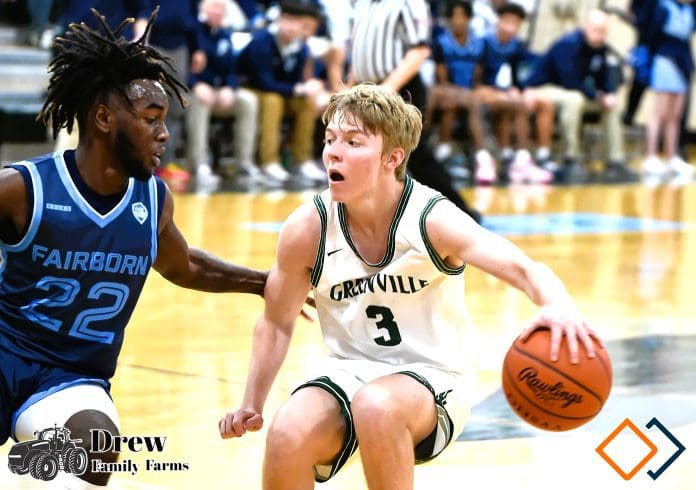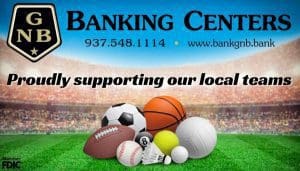 GREENVILLE – Greenville swept the visiting Fairborn Shyhawks boys basketball program in Friday night MVL action with the Green Wave freshmen defeating Fairborn 63-38 followed with 47-40 GHS come from behind JV victory and the Greenville varsity boys completing the sweep with 63-58 win over the visitors.
"We made a few roster alignments and got some guys in the right places and got some energy," said Greenville coach, Matt Hamilton. "These guys continue to buy in to what we're doing."
The Green Wave took the court a starter short with Drew Hamilton on the bench with an injury.
"Another man down tonight," Hamilton noted. "We continue with adversity almost every night but these guys just keep fighting and playing hard. They keep talking about being a force down the stretch and they're ready to do that."
Greenville took advantage of the 3-pointer and total team play to grab a 19-10 lead at 1:27 in the first and take a 21-15 point advantage after one quarter of play. Jarrod Demange drained two treys and a 2-point basket for 8-points, Haiden Livingston canned a trey and 2 buckets for 7-points and Jack Chick, Eric Brenner and Chace Drew each added a bucket.
Fairborn was 1-point better in the second quarter taking the period 13-12 sending the teams to the break with Greenville owning a 33-28 lead. Brenner paced the Wave with 5-points including a 3-pointer.
Fairborn battled back with a 17-12 third quarter and grabbed the momentum sending the game to the fourth quarter with the teams tied at 45-45.
"We talked quite a bit after the loss to Sidney where we gave up the (20-point) lead, about what happened, how a lot of our guys haven't been in that situation with a big lead like that so we learned a lot real quick from that game," said Coach Hamilton. "So we went through the second half and every timeout opportunity it was – remember Sidney, remember Sidney and we kept playing – I'm incredibly proud of them."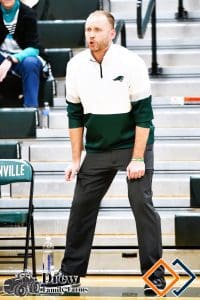 Period No. 4 had Greenville win the battle of the full court press and use a 5-0 run to lead 50-45 in the opening minute of play. The Wave pushed its lead to 60-51 at the 3:10 mark and took advantage of 8-12 fourth quarter free throw shooting to earn the win. Fairborn knocked down four of its nine 3-pointer in the fourth to keep pressure on the Wave.
"Haiden (Livingston) has been sick for a week and a half – he just put it out there," Hamilton said. "The amount of pressure Jarrod (Demange) can handle, Eric (Brenner) stepped up and did both ends of the floor. Jack (Chick) defensively – everybody played. You can go through and name names and plays they made but it was a team effort and that's what we need every night."
Brenner led Greenville and all scorers with a game high 18-points. Demange and Livingston also hit double figures for the Wave, 17-points and 13-points respectively.
BOXSCORE:
GREENVILLE 63, FAIRBORN 58
GREENVILLE – E. Brenner 18, J. Demange 17, H. Livingston 13, J. Chick 6, E. Massie 5, C. Drew 4 – TOTALS 17 11-15 6 63
FAIRBORN – T. Williams 17, D. Graham 13, J. Roschy 10, J. Larson 7, C. Bush 5, D. Davis 4, A. Bocker 2 – TOTALS 12 7-8 9 58
3-POINTERS
Greenville 6 (J. Demange 2, E. Brenner 2, E. Massie 1, H. Livingston 1)
Fairborn 9 (D. Graham 4, T. Williams 3, C. Bush 1, J. Larson 1)
SCORE by QUARTERS
21-12-12-18 63 Greenville
15-13-17-13 58 Fairborn