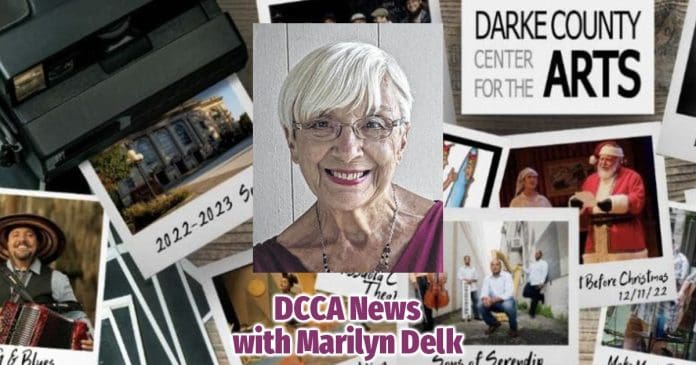 By Marilyn Delk
GREENVILLE—As Darke County Center for the Arts' forty-fourth season moves into the new year bringing an abundance of music, creativity, excitement, and culture to eager audiences, DCCA's remaining schedule also includes a whole lot of fun! First off is DCCA's annual highly popular fundraiser "A Taste of Wine and Jazz" next Friday, January 20; however, if you don't already have your tickets to this feast of food, fun, and music, you will need to wait till 2024, as it is sold out. But never fear, lots of fun opportunities for people of all ages and artistic preferences are still available.
On Saturday, February 11, bluegrass super group Appalachian Road Show will bring their amazing musicianship to Henry St. Clair Memorial Hall in Greenville, just two months following their premier performance at the iconic Grand Ole Opry in Nahville. Drawing their inspiration from the rich and vibrant history of Appalachia, the group has released three best-selling albums since joining forces in 2018; the band consists of Barry Abernathy, Todd Phillips, Zeb Snyder, Jim VanCleve, and Darrell Webb, and includes past Grammy-winners who had already carved out impressive careers in acoustic music as well as future award-winning musicians.
Next on DCCA's schedule following the special event by Appalachian Road Show, on Sunday, Feburary 19 Tutti frutti and York Theatre Royal's production of Hans Christian Andersen's The Ugly Duckling will delight all those in the Family Theatre Series audience at St. Clair Memorial Hall. With a witty script and worthwhile message, this show is suitable for audiences of all ages, as is DCCA's final FTS presentation of the 2022-23 season on Sunday, March 26, Llama Llama—LIVE!, Bay Area Children's Theatre's world premiere of a delightful drama starring everybody's favorite little llama and based on the best-selling books by Anna Dewdney.
Those who missed out on the fun at "Wine and Jazz" can catch up with fizzy festivities on March 17, when Montage Cafe hosts DCCA's St. Patrick's Day celebration, "Irish Wave." Further enticements to join the party include Irish food, craft beers, and the Celtic sounds of Sons O'Blarney along with the "Off to the Isle" raffle offering opportunity to actually visit the Emerald Isle.
Cellist Hannah Alkire and her husband Joe Scott, who invented and plays the guitjo, tour the world spreading their joyful noise; they call themselves "Acoustic Eidolon," and will share their talents on Thursday, March 23 at Montage Cafe as part of DCCA's cozy Coffee House Series. FYI—a guitjo is an acoustic guitar, but one strung as if it were a banjo. The Coffee House season will close on Thursday, April 20, with young guitar virtuoso Elden Kelly performing in the welcoming confines of Arcanum 's Wayne Trail Historical Society. A skilled composer and vocalist, Elden is impossible to pigeonhole, creating delightful music that stretches beyond borders of genre and style.
During the month of April, DCCA audiences will be delightfully showered with the unique sounds of "Sons of Serendip," an eclectic quartet consisting of a harpist, cellist, pianist, and vocalist; "Sons of Serendip" will take the Memorial Hall stage on Saturday, April 22. These amazingly talented and versatile musicians first gained attention as finalists on America's Got Talent, and their star quality continues to rise as they triumphantly move through the steps to super-stardom.
DCCA's 2022-2023 season designed to bring you back to enjoy the benefits of the arts closes on Saturday, May 27, with a much-anticipated concert by Toledo Symphony Orchestra, a stellar organization with melodious repertoire and exceptionally talented musicians. These musicians love to play, and their music reflects their joy and enthusiasm. Darke County Center for the Arts continues to enrich lives in our community in myriad ways, offering multiple opportunity for enjoyment of the benefits provided by the arts.