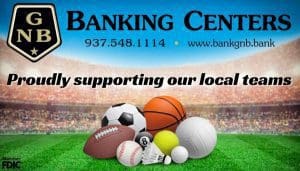 GREENVILLE – The visiting Stebbins Indians won the battle of the first half by 6-points and Greenville battled back to take the second half by 4-points in coming up 2-points short in the MVL Tuesday night matchup won by the visitors 68-66.
"We couldn't seem to find an answer defensively no matter what we ran tonight, they seemed to cut right through it," said Greenville coach, Matt Hamilton. "We didn't rebound well, we didn't play defense like we needed to."
Greenville's Eric Brenner was dialed in from 3-point range canning eight triples on the night tying a single-game school record set by Noah Walker, class of 2019. Walker set the school record against West Carrollton in February of 2018.
Greenville senior starting guard and floor leader, Jarrod Demange was not on the court most of the second half, going out with an injury.
"If we don't have adversity we don't have anything for this team this year but as always they continue to fight," Hamilton stated. "They play hard, they continue to play together."
Stebbins took the opening quarter 12-8 with Brenner getting his first triple of the night, Drew Hamilton added three points and Chase Drew a bucket.
Greenville knotted the score at 26-26 at 1:31 in the second quarter only to have the Indians close out first half action on a 6-0 run including a 4-point play to take 32-26 lead at the break.
Brenner buried his second and third treys of the night, Jarrod Demange added a 3-pointer and a basket for 5-points, Drew was good for 3-points and Drew Hamilton and AJ Shaffer each added a bucket.
The MVL teams played to a 19-19 standoff in Period No. 3 with Brenner hitting his fourth, fifth and sixth 3-pointers and a 2-pointer good for 11-points. Drew added 4-points, Livingston and Jack Chick 2-points each and Hamilton a point with Greenville trailing 51-45 with a quarter to play.
Stebbins came out strong to open an 8-point fourth quarter lead before Greenville found its stride to outdistance Stebbins 21-17 in the fourth coming up one basket short in falling to the visitors.
"We had probably eight of these games within reach and we haven't been able to finish a run," Coach Hamilton stated. "We're down eight and we get a couple buckets. We get within a possession or two and then we have a couple turnovers. We just can't seem to keep momentum going and have a 10-12 point run where we turn the tide. We have to learn."
Eric Brenner led Greenville and all scorers with a game high 29-points.
"Eric played a heck of a game," said Hamilton, "shot the ball well."
The Greenville freshman team defeated Stebbins 55-45 and the Green Wave JV squad downed the Indians 41-33 in the early games.
BOXSCORE:
STEBBINS 68, GREENVILLE 66
STEBBINS – C. Keller 16, R. Harris 15, G. Scales 12, J. Harris 9, K. Scales 8, G. Brandon 4, J. Brown 2, L. Lyles 2 – TOTALS 18 14-23 6 68
GREENVILLE – E. Brenner 29, D. Hamilton 9, C. Drew 9, H. Livingston 8, J. Demang 5, J. Clark 4, AJ Shaffer 2 – TOTALS 14 11-15 9 66
3-POINTERS
Stebbins 6 (C. Keller 2, R. Harris 1, J. Harris 1, G. Brandon 1, G. Scales 1)
Greenville 9 (E. Brenner 8, J. Demange 1)
SCORE by QUARTERS
12-20-19-17 68 Stebbins
08-18-19-21 66 Greenville