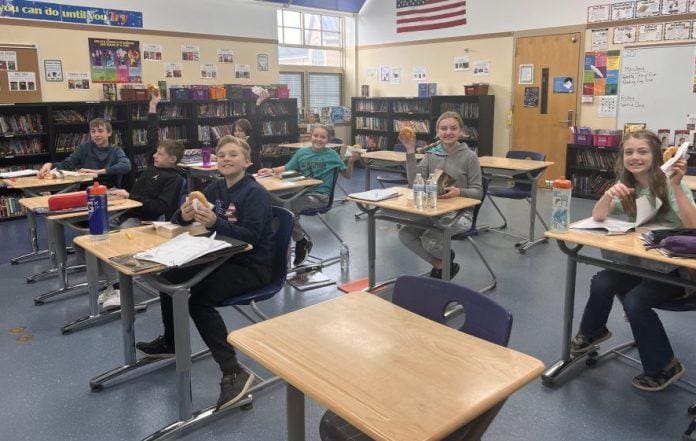 PITSBURG—The Franklin Monroe (FM) Local School District will offer a preschool program during the 2023-24 school year.
Junior Jet Academy, the first preschool at FM, will be split up in two classrooms, co-pilots (3 to 4 years old by Aug. 1), and pilots (4 to 5 years old by Aug. 1).
Elementary Principal Megan Linder said program will allow students to start at FM, as they often go to preschool in another district in the past.
"We're trying to get something to start our foundation earlier from the ground up here," Linder said. "Having our kids prepared for kindergarten is another big thing, because a lot of our kids didn't have access to preschool around here."
Students that attend the program will have an opportunity to participate in a range of activities.
Karina Robison, preschool director and lead preschool teacher, said the students will experience circle time, music and movement, storytelling, arts and crafts, sensory play and more.
"We believe students do best when they're active and engaged," she said. "Our program is designed to provide a range of opportunities for all of the students to learn and grow."
Each class will meet two days a week. Co-Pilots will meet Monday and Wednesday from 8:55 a.m. to 3:20 p.m., and will not have bussing provided. Pilots will meet Tuesday and Thursday from 8:55 a.m. to 3:20 p.m., with bussing available to them if they have a sibling at the elementary school. Breakfast and lunch will be offered.
Class will meet in the old portion of the FM School Building, known as the "old cafeteria." Students will have some access to the elementary gym for motor skills, and their own bathroom. Students are required to be 100% potty trained for both classes.
Linder added that the program has been a long time coming.
"I've been here for seven years," she said. "We've been asking [for the program] every year since. I think even before that, people had asked, and asked, and asked. It's really just been evident in the last year or so that we needed to do something."
Another large part of the program is teaching the children how to best socialize with other children, and focus for a full school day.
"Obviously kindergarten readiness is going to be huge," Robison said. "Your Co-Pilots will be more being around other kids. How to build their stamina, how to follow directions, how to be present all day."
Linder added that the preschool will be incorporated into the FM Elementary School.
"I want them, as an elementary principal, to be a part of our school," she said. "They will be included in our programs, invited to our programs, part of our fundraisers that we do, that type of stuff."
There is no deadline for preschool registration. The district will accept students until the classes are full. Linder said the program has about 20 spots left. Both classes will cost $125 per month, which will be due at the first of the month.
There will be a parent meeting for the program sometime in August.
The FM Local School District is located at 8591 Oakes Rd., Arcanum, Ohio 45304. Call 937-947-1327 or 937-947-1206, or go online to the FM Elementary website for more information.