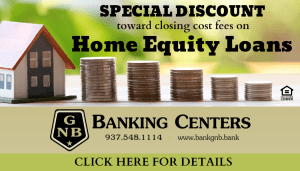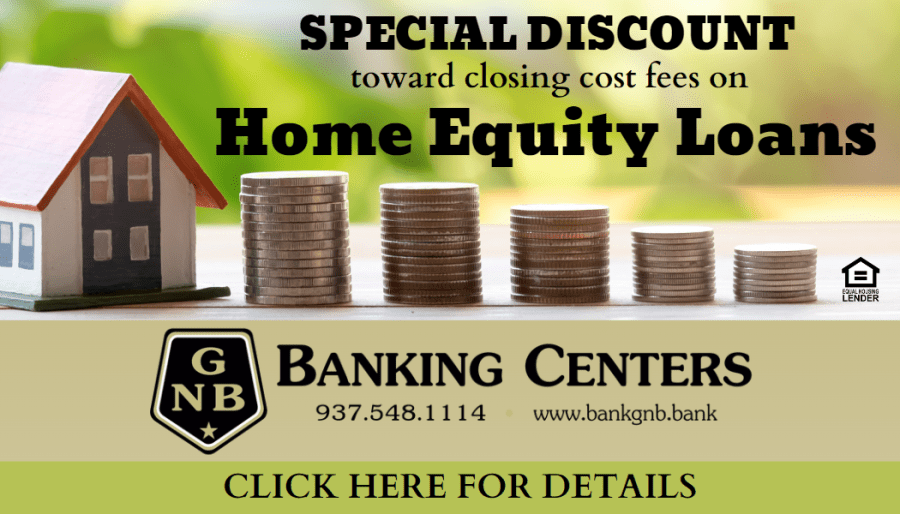 SIDNEY – The opening quarter of play for Franklin Monroe against Botkins in the OHSAA DIV Sidney Sectional Tournament would prove to be their undoing falling 48-31 to end their season.
The Jets started the game down two-starters due to injury and illness and Botkins would jump all over FM with full court pressure as they jumped out to a 11-0 first quarter lead.
"You can't come out and not score any points in the first six minutes … but there were kids playing positions they're not used to because of injuries, no excuses but missing Olivia Sease and Adalynn Hines we knew it was going to be a challenge as they accounted for a lot of our points," FM coach Zane Shellabarger said.
But the spirited Jets fought back and finally scored two minutes into the 2nd quarter and then outscored the Trojans 14-5 over the next 5 minutes.  Jaliyah Nichols had 7 of the points as they closed the gap trailing 16-14. Botkin's made two triples to answer and lead 22-14 at the break.
After the half Franklin Monroe worked on denying Trojans point guard getting the ball and it  slowed down their offense allowing the Jets to close the gap once again.  Every time FM made a run Botkins hit a big triple (7 on the night) and they would lead 30-23 heading into the final frame.
"I thought our defense was phenomenal. They (Botkins) did exactly what our scouting report said, and our girls did everything as best to their ability on defense, credit them they made big shots when they needed them," Shellabarger stated.
The Jets cut the deficit to 5 twice in the early part of the 4th quarter … but Botkin's again found the bucket from distance and eventually forced FM to foul to gain possessions.
The Trojans went on to win the game 48-31 moving on to the 2nd round where they will play Mississinawa Valley Thursday night.
Jaliyah Nichols led the way for the Jets with 12 points.
Franklin Monroe went toe to toe for three quarters if they could just have back the first quarter.
"We just came out flat, I know a lot of that was probably due to nerves, but our girls battled back. I mean, it was kind of the story of our season where we get hit with adversity and fight back.  The girls have huge hearts and do everything asked, we just came up on the short end tonight," Shellabarger said.
"It was a tough way to end it for Jaliyah Nichols and Madison Henninger, I told the kids in the locker room this is my least favorite night of coaching. I hate saying goodbye to our seniors."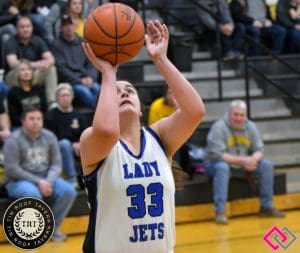 "I mean, Madison didn't play last year, she decided to come out and has been nothing, but a spark plug for us, in a good way. She's been very coachable. She's been very vocal. Good attitude. Great kid. I wish I could have had her last year for some skill things. But she came out this year and jumped right in and, she's been a very good leader."
"Jaliyah, I've coached that kid since third grade. And it's tough. I was with her this summer when she separated her shoulder and I think I was crying more than she was, but I love her like my own kid. And she's got a great future ahead of her. She's a sweet kid. very coachable."
"And yeah, it's the least favorite night of coaching of the year," Shellabarger said fighting back tears.
The Jets return a number of young kids and coach Shellabarger has high hopes they will be working on things over the summer.
"We're young and there's some talent. There's definitely some talent here. But we got to get in the gym and make a commitment to build skills in the offseason. We definitely lack some offensive skill, and you know there's definitely the freshman class to build from.  They're very competitive and they want to get better and win and I don't believe they're satisfied with where we're at and that's a good place to start," Shellabarger concluded.
Box Score:
Score by Quarters:
FM       00        14        09        08 – 31
Bot      11        11        08        18 – 48
Team Scoring:
FM       Barnes 7, C. Nichols 2, E. Shellabarger 4, L. Shellabarger 6, J. Nichols 12 – 31
Bot      Paul 9, Dietz 15, Maurer 16, Doseck 5, Metz 3 – 48