GREENVILLE—FPC students from First Presbyterian Church went Trick-or-Treating for canned goods Saturday, October 29, and collected over 500 donations that will be given to FISH Choice Food Pantry here in Darke County.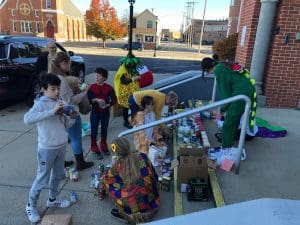 FPC Students service opportunity for next month will be preparing Christmas Boxes for kids in our community. This will take place on Saturday, November 26. These service opportunities are preparing them for their mission trip to Niagara Falls next summer.
The canned goods have all been donated as of today at 11:30 a.m., and the donation totaled 468lbs of food.