Eaton's varsity baseball team is scheduled to open the 2023 season on Tuesday, March 28 at Preble Shawnee. The Eagles are looking to build off an outstanding season in 2022. Eaton was 21-6 last season and tied for the top spot in the Southwestern Buckeye League West Division. 
Eaton finished the season 11-2 in the SWBL, along with Carlisle. Valley View (4-8), Brookville (4-9) and Madison (2-11) rounded out the division. 
Eaton returns three All-SWBL First Team players from last year's squad – Carson Brower, Brock Ebright and Brady Rice.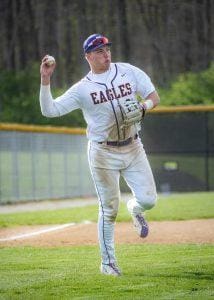 Rice was also named Pitcher of the Year in the league. He led the SWBL with 104 strikeouts and earned seven wins on the season. He shared the top spot in wins with teammate Brower who also had seven. The two seniors will anchor the Eagles' pitching staff in 2023.  
Rice was also a key to the Eagles' offense last season. He led the league in RBIs with 33 and had three home runs. Ebright will also be a key to the Eagles' offense. The Eaton shortstop hit .378 last season and was among the league leaders in runs scored with 33. 
The Eagles are coached by Bob Ebright, who shared Co-Coach of the Year honors with Carlisle's Chris Hawkins. The Indian's Talon Borders was the 2022 Player of the Year for the West Division. 
Eaton opens the regular season on Tuesday, March 28, at Preble Shawnee. They travel to Madison to open SWBL play on March 29. They are also scheduled to play Madison again Friday, March 31, at Wright State University.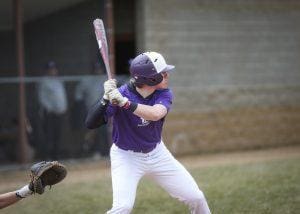 Bellbrook, also 11-2 in league play, placed first in the East Division. Franklin (7-6), Waynesville (6-7), Monroe (5-8) and Oakwood (3-9) round out the standings. 
Bellbrook coach Jon Veenters earned Coach of the Year honors. Franklin's Pierce Bauerle was Player of the Year.  
(Information provided by www.swblsports.com)