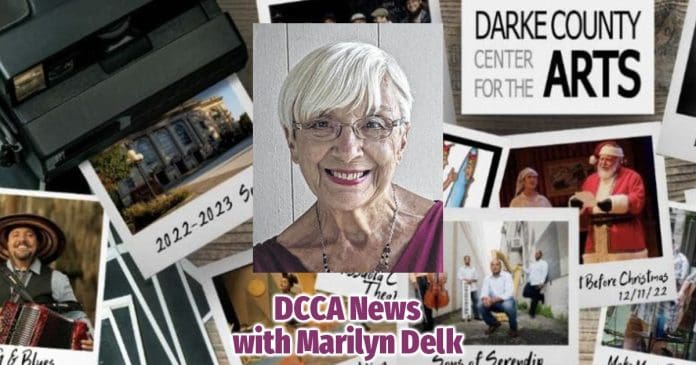 GREENVILLE—Darke County Center for the Arts 2022-2023 Artists Series season truly ended with a bang (fittingly provided by percussionists) last Saturday night when Toledo Symphony Orchestra delighted their spellbound audience with—cue the ominous music—a tale of mayhem and "murrr-der." Themed around a trip aboard the Orient Express, the program embraced the spirit of Agatha Christie's famed novel as orchestra conductor Steven Jarvi donned a train conductor's uniform to lead the audience on a merry adventure filled with music transporting listeners through the great cities of Europe. The compositions of Bartok, Britten, and Beethoven as well as music by Strauss and Frederick Loewe and others evoked a range of emotions, ultimately resulting in a fun ride for all concerned.
But that was only one of the exciting events during a season that sought to bring you back to Henry St. Clair Memorial Hall for entertaining, enriching encounters with the arts. DCCA's Artists Series season opened on Saturday, October 22 with sensational singer/songwriter Luke McMaster, who along with his talented bandmates, captivated and charmed the audience; Luke's warm personality and dulcet tones won deserved accolades from youngsters and oldsters alike as he performed familiar music as well as new and original songs in a show that nobody seemed to want to ever end.
"Hey Mavis" combined stellar musicianship, creative songwriting, and inspired storytelling to create an intricate combination resulting in a tapestry of sound that thrilled the audience assembled at St. Clair Memorial Hall on Saturday, November 12. The quartet, formed by singer/banjo player Laurie Michelle Caner and her husband, fiddler/violinist Eddie Caner, and including bassist Bryan Thomas and drummer Anthony Taddeo, seamlessly blended modern elements with old-timey traditions. Their songs told stories rooted in the tradition of mournful Appalachian ballads, but from a distinctly contemporary viewpoint; with heartfelt vocals, blazing instrumentals and an undeniable onstage musical chemistry, "Hey Mavis" defined enjoyable, entertaining Americana music.
On Saturday, February 11, Bluegrass superstars Appalachian Road Show brought their amazing talents and heartfelt songs to Memorial Hall; the vibrant music provided by award-winning veterans Jim VanCleve, Barry Abernathy, Darrell Webb, Todd Phillips, and amazing newcomer Zeb Snyder still resonates in the hearts and minds of all those who experienced the memorable show. The group is on a mission to illuminate the history, challenges, and rewards of Appalachia, and celebrate the spirit of the people who call that storied region home; Appalachian Road Show accomplished that mission in a performance that left their audience inspired and energized.
When Billboard-charting classical crossover group "Sons of Serendip" took the St. Clair Memorial Hall stage on Saturday, April 22, their ethereal music won the hearts of local audiences just as they had thrilled viewers and judges when they appeared on the ninth season of America's Got Talent. Original members vocalist Micah Christian, harpist Mason Morton, and pianist Cordaro Rodriguez are now joined by award-winning cellist Nathaniel Taylor, seamlessly working together to produce a captivating soulful performance full of charisma and passion that inspires delight and stirs souls.
DCCA's 44th season began on Friday, July 8 with the most recent incarnation of an event that has become a "must-attend" community staple; "Barbecue and Blues" filled the inviting lawn of Greenville Public Library with music, food, fun, and lots of people who partook of the effervescent joy generated by that energetic ambassador of Cajun culture, Terrance Simien. The night of good music began with Indianapolis bluesman Levi Driskell and his eclectic blend of blues, folk, and Americana; and then, Terrance Simien and his Zydeco Experience took the stage to "let the good times roll!" Zydeco, the indigenous music of the French-speaking Creoles of central and southwest Louisiana and an exotic blend of many sounds and cultural influences, appeals to all fans of good music, and quickly inspired enthusiastic dancing to break out among the diverse crowd assembled on the spacious grounds.
From that fun-filled initial event to the recent fun-filled final concert, Darke County Center for the Arts provided entertainment and culture to entice and satisfy audiences of all ages; and a good time was enjoyed by all!