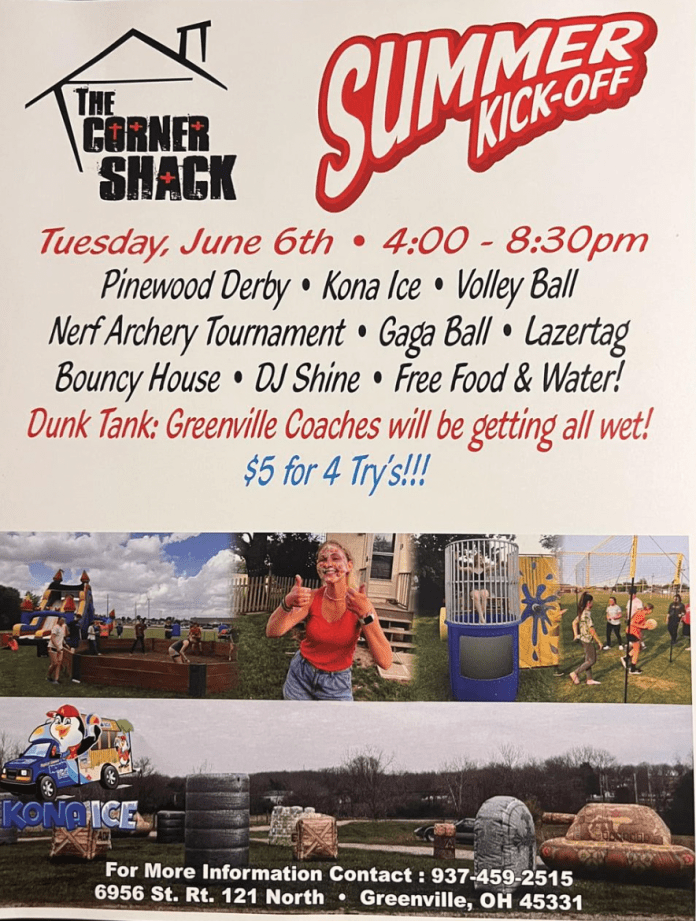 GREENVILLE— The Corner Shack Youth Group will hold its summer kick off from 4 p.m. to 8:30 p.m. tonight.
Bring a little money, and dunk coaches, teachers, principals and a few seniors.
SCHEDULE:
4 p.m.: Brian Mckibben
4:15 p.m.: Rhonda Schaar
4:45 p.m.: Steve Schmitz
5 p.m.: coach Marten
5:30 p.m.: Tim Cundiff
6 p.m.:Andrew Davidson, Micah Coblentz
6:30 p.m.: Travis Nicholas
7 p.m.: Kyle Harter
7:15 p.m.: Tom Warner
7:30 p.m.:Stephanie Lind
7:45 p.m.:Dennis Eckstein
4 p.m. to 8:30 p.m.: Bounce House houses
Ryan and Michael Crampton will be there at sometime, as well as Kona ice, laser tag, free food, Gaga ball, corn hole, volleyball, spike ball, hillbilly golf and nerf archery.
Cornershake is located at the corner of Russ Road and St. Rt. 121 in Greenville.