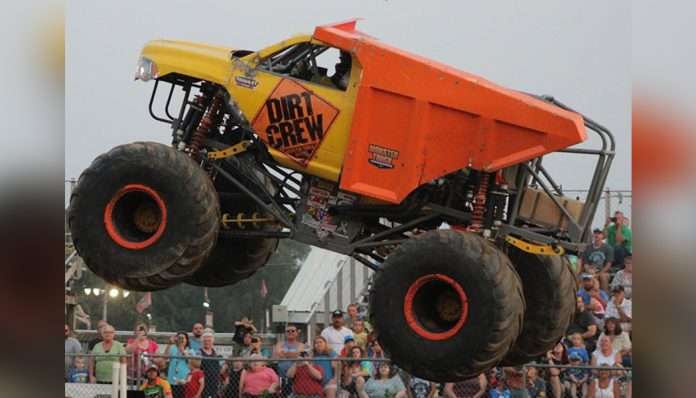 Darke County Monster Mash on Saturday, September 30, 2023.
Full Throttle Monster Trucks featuring the King of the Monster Trucks, the legendary Big Foot, along with Dirt Crew, Blockhead, Maximus, Stomper & American Scout. All six monster trucks compete in three main events: side-by-side, freestyle, and a wheelie competition.
Grandstand gates open at 4 pm. The Pit Pass party starts at 4 pm and is included with the ticket price. The Pit Pass party allows anyone with a Monster Mash ticket to meet the drivers of the monster trucks and take up close pictures with the monster trucks. Monster truck rides will take place before, after, and during intermission for an additional cost per rider.
Fireworks immediately following the monster truck show sponsored by Solid Rock Apostolic church.
Get your discounted PRE-sale tickets early for the Monster Truck show online at: www.darkecountyfair.com or go to www.etix.com.
You can also visit the Darke County Fairgrounds office or call them at
937-548-5044. Box tickets are $23, red grandstand tickets are $20, track tickets are $20, and grandstand tickets are only $18. Enter code ACTS2:38 for a $2 discount per ticket. Ticket prices go up on the day of the event.
For more details about the event and to participate in contests, you can go to the following: www.facebook.com/cremedelacreme.cakery and then click on the Events tab for the "Solid Rock & Boom 2023" and "Darke County Monster Mash 2023".
You can also contact Jason Blackburn for more information by email at thepromoterllc@gmail.com.