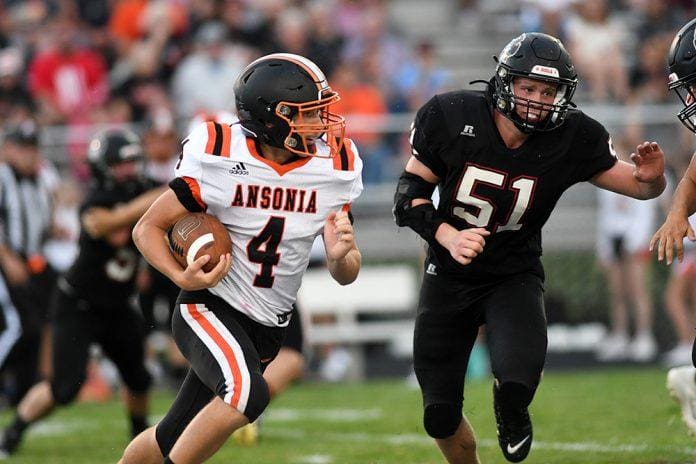 Ansonia 56 – Covington 0
The Ansonia Tigers scored early and often on their way to a shutout win over the Ansonia Tigers
SCORING SUMMARY:
ANS – Keegan Weiss 1-yd run (2-pt Good) – 8-0
ANS – Garrett Stammen 41-yd run (2-pt Good) – 16-0
ANS – Keegan Weiss 18-yd run (2-pt Failed) – 22-0
ANS – Wyatt Spencer 60-yd interception return (2-pt Failed) – 28-0
ANS – Trevor Hemmerich 65-yd pass from Nick Burns (2-pt Good) – 36-0
ANS – Jacob Schmitmeyer 10-yd run (2-pt Good) – 44-0
ANS – Cade Shellhaus 11-yd run (2-pt Failed) – 50-0
ANS – Jacob Schmitmeyer 1-yd run (Kick Blocked) – 56-0
Ansonia played physical and disciplined and had zero penalties in the game and improve to 2-0 on the year. They will host 2-0 Dixie this Friday.
Dixie 35 – Mississinawa Valley 27
Mississinawa Valley found themselves trailing 28-13 at the half and made a late run to try and close it but came up short falling to the Dixie Greyhounds 35-27 in WOAC league play.
The Hawks were led by Dylan Wehrkamp with 205 yards on 19 carries and 2 TDs and Anthony Ibarra had 105 yards on 14 carries and a TD.  Ibarra also had 15 total tackles 5 solo to lead the Hawks on defense.
Dylan also threw for 102 with Bryce Watson hauling in 3 catches for 47 yards, Leland Kauffman 2 receptions for 35 yards.
Mississinawa falls to 0-2 and 0-1 in the WOAC.  They will host Arcanum this Friday.
Twin Valley South 42  – Arcanum 13
The Trojans dug a hole in the game with Twin Valley South who jumped out to 13-0 lead at the half.
Arcanum Truman Knaus answered in the third quarter on a 2-yard TD run only to see the Panthers score on consecutive possessions to go up 28-7 heading into the final frame.
Arcanum Devin Craport scored on a 2-yard run in the 4th quarter, but Twin Valley South offense generated two more scores for 42-13 WOAC win.
Dakota Kendig rushed for 116 yards on 19 carries, Devin Craport had 71 yards on 12 carries.  Quarterback Landon Wagner threw for 71 yards 6/13 with Micah Jarret hauling in 3 receptions for 43 yards and Lukeus Midlam two catches for 27 yards.
Arcanum fall to 1-1 overall, 0-1 in the league and they play at Mississinawa Valley this Friday.
Cincinnati Country Day 33 – Bradford 6
Bradford opened up play on a new field Friday night but was only able to generate one highlight play on the evening, a 75-yard run from Trey Schmelzer.
Bradford generated 270 total yards in the game with Schmelzer gaining 135 yards on 12 carries, Tucker Miller had 106 yards on 21 carries.
The Railroaders fall to 1-1 on the season and will play at New Miami this Friday.